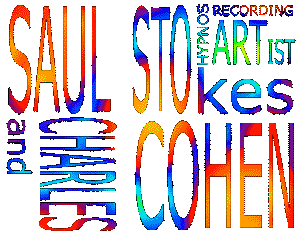 Saul Stokes Performs Live
with

Charles Cohen (opening)
at

The Gathering
Saturday, December 12th, 1998
8:00PM

St. Mary's Church
3916 Locust Walk
Philadelphia, PA


telephone: (610) 734-1009

| | |
| --- | --- |
| | Performing on custom designed, hand built synthesizers and modern sampling technology, Hypnos recording artist Saul Stokes will create a sonic landscape somewhere between the floating textures of Vintage Spacemusic and the focused rhythms of Modern Ambient. |
| | |
| --- | --- |
| With two albums to his credit and represented on several compilations, Saul Stokes is already recognised as one of the leading voices in modern Electronic Music. Described as "fresh and inventive", Saul Stokes brings together elements of Space, Ambient, Industrial and Intelligent-Techno, forging a sound all his own. His Gathering performance will begin at a point of reference familiar to most and gradually lead the audience far out into the sonic universe. | |
| | |
| --- | --- |
| | Saul Stokes' Gathering performance will be his first ever on the east coast of the USA and will reflect his interest in sound shaping, pulse rhythms, improvisation and sonic invention. Stokes takes an unconventional approach to music. Every sound at The Gathering will come from electronic instruments built by Stokes himself. This unique palatte of sounds and Stokesą individual vision, results in music that is refreshingly original. |
Anyone interested in hearing how contemporary music can challange and reflect the shape of things to come will find the music at The Gathering Concert Series an ideal resource.


---
Saul Stokes CD Reviews:

"ZO PILOTS is the second release for Saul Stokes on the Hypnos label and carries on where he left off with WASHED IN MERCURY. You have similar sonic terrains being traversed, that same industrial feel, at times pulse driven, long pieces which explore for the better part the darker side of his electronic music. It still reminds me of music I might have listened to in the late seventies or early eighties, not that this is a criticism, for there is a genuine rawness to Stokes's creative output that is quite pleasing. The pieces are mostly developed over long periods of time and for the better part there is no distinct sense of melody as a lot of this is improvised. When it does come it kind of takes you by surprise almost, because our western way of hearing has taught us to listen to melody, rhythm and harmony within music itself.


Saul Stokes has done a lot of work with this particular release, and it shows in the quality of the recording. I also believe his best is yet to come. Be that as it may this is unique and original in its own ways and Stokes deserves to have more of an audience for his sound worlds. Another fine release for Hypnos."


--Hans Stoeve, host of POWERSPOT on 2RES, FM 89.7, NSW Australia

"A great journey has come full circle with Saul Stokes' debut experimentation WASHED IN MERCURY. His independent magic of spiraling uncanny synths is not only pleasing to the ear, but to the mind itself. A uniquely developed piece, Stokes has ventured into the realm of the uncharted with his imagination as the only true guide. The tracks average roughly nine minutes, as if developed to tell a tale of Stokes' wondrous journeys to the netherworld.


In concept, the style is succinct and from a divine mind at work. Tracks like "Kasei" and "Deep in the Grass" stand high above the clouds as sounds crescendo in among the mountain tops, filtering through the hill and dales to the base of the valley, where our imaginations only begin to suspect what really lies 'out there.' "


--DIGITAL ARTIFACT magazine

---
Opening for Saul Stokes will be Philadelphia legend Charles Cohen.

| | |
| --- | --- |
| | Based in the Philadelphia area, Charles Cohen has been amazing and challanging audiences for over 20 years. His music is entirely improvisational and produced solely on a vintage Buchla Music Easel synthesizer. An avid collaborator, Cohen is most well known to Star's End listeners from his work with Jeff Cain in their group The Ghostwriters. At The Gathering, Cohen will be joined by recent collaborator Mike Hopkins. |
| | |
| --- | --- |
| With few recorded/commercially available works to his credit, Cohen prefers to concentrate on creating Electronic Music in the setting of the live performance space. His music ranges from completely abstract and challanging to pleasantly rhythmic and infectious. Each performance is original and new, to the audience and to Cohen as well. | |
---
The Gathering with Saul Stokes and Charles Cohen will take place from 8pm to 11pm on Saturday, December 12th, 1998 at St. Mary's Church, 3916 Locust Walk, Philadelphia, PA. Admission at the door is $15; $10 w/WXPN MemberCard and $5 w/proper student ID.

---
Concert Preview: In the weeks prior to the concert, the Star's End radio program will regularly feature the music of Saul Stokes. A live interview with the artist is scheduled for the 12.06.98 broadcast.

---
Following The Gathering: the Star's End radio program will feature a live in-studio collaboration by featured Gathering artists Saul Stokes and Charles Cohen. Tune in to Star's End this weekend and hear a totally improvised, live radio concert from two of our community's most innovative artists.

---
Where to find Star's End


Saturday Nights/Sunday Mornings
1:00am to 6:00am on
88.5fm WXPN Philadelphia, PA
88.1fm WXPH Harrisburg, PA
90.5fm WKHS Worton/Baltimore, MD
104.5fm Allentown, PA

---
For directions to St. Mary's Church and The Gathering: Click Here
---
Any questions... Email: chuckv@starsend.org

---
| Webcast |
| Star's End Gatherings |
| Weekly Update |
| Events |
| Home |