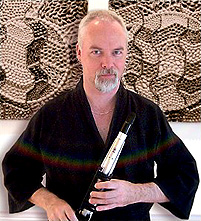 Kit Watkins seen with his
Electronic Wind Instrument
Kit Watkins is known largely for his keyboard virtuosity with Camel and Happy The Man, groups that helped to define the progressive rock genre. Moving beyond the structured terrain of of these bands, Watkins has explored a wide range of themes and styles, from abstract drones to interpretations of classical standards. After a break from composing and performing, he now looks back on a prolific musical career. The introspective ambient soundscapes of his Thought Tones series realized contemplative music from various forms of feedback. On Circle, Watkins combined synthesizer textures with pristine environmental recordings. A Different View demonstrated Watkins's ability to interpret the classics electronically. And on Azure, progressive traditions met new age aesthetics. Drawing on so many influences, Watkins has been difficult to label. With each project, Watkins expands into new genres and adds diversity and character to his biography.