Profile: Steve Tibbetts + Choying Drolma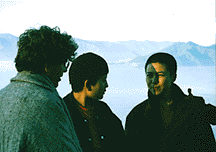 Choying Drolma and the nuns of Nagi Gompa, a Buddhist nunnery in the foothills of the Himalayas, sing songs that have been passed down in an unbroken living tradition for hundreds of years. In 1994, guitarist Steve Tibbetts visited their remote monastery and recorded their music, which he later framed with elegant and restrained arrangements to create a stunning recording called Chö, released on Ryko/Hannibal Records.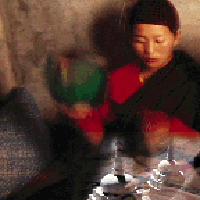 In the Autumn of 1998, Steve Tibbetts and Choying Drolma performed a small number of live concerts in select cities. For Choying and two other nuns from the Nagi Gompa nunnery in Nepal, this was not only their first concert tour, it was the first time they performed these chants in public, for anyone.
.

The rare opportunity to hear a live performance of traditional Tibetan Buddhist chanting, transformed by the sonic atmospheres of Steve Tibbetts, came to Philadelphia on 5 November 1998, (as part of The Gatherings Concert Series) in the peaceful surroundings of St. Mary's Hamilton Village.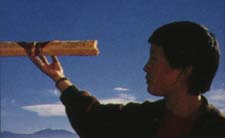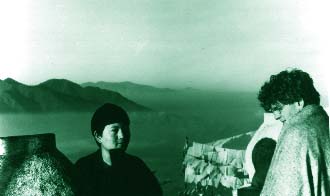 Accompanying the chanting, guitarist Steve Tibbetts and percussionist Marc Anderson created a soundscape that ranges from serene to surreal. Tibbetts is a renowned guitarist with such critically acclaimed recordings on the ECM jazz label as Yr, Northern Song, Safe Journey, Exploded View, Big Map Idea and A Man About A Horse. Long-time collaborator Marc Anderson has appeared on most of Tibbetts' albums, and has his own CD of world-music fusion called Timefish on the EastSide Digital label.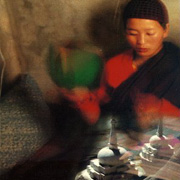 Tibbetts' musical colleague on the CD Chö, Choying Drolma, was born in Kathmandu in 1971 to Tibetan exiles who fled the Cultural Revolution (and their homeland) in 1959. At the age of twelve, Choying asked her father to allow her to pursue the monastic life. She was accepted as a nun and student at the Nagi Gompa nunnery under the tutelage of Lama Tulku Urgyen Rinpoche, one of the greatest teachers of non-conceptual meditation and a resident of the nunnery for 34 years. Up until his death in 1996, Rinpoche instructed Choying in monastic rituals and meditation and taught her many of the chants and feast songs which appear on the CD Chö (and were performed live at their 11.05.98 concert in Philadelphia). Tibetans do not regard this music as folk music, but rather perceive the depth of meaning in these songs as capable of enhancing understanding and transforming ordinary experience.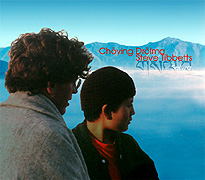 The highly anticipated follow-up to their acclaimed first release, 1997's Cho, Selwa is a beautiful sound tapestry of haunting songs evoking a sense of peace that cuts through any language barrier. Tibbetts' subtle arrangements mixed with percussion from long time collaborator Marc Anderson perfectly frame Drolma's unforgettable voice. The group returned to Philadelphia for a performance within the church sanctuary of St. Mary's Hamilton Vilage on 9 April 2005 as part of The Gatherings Concert Series.
.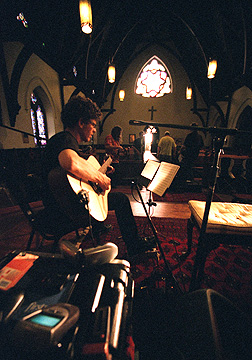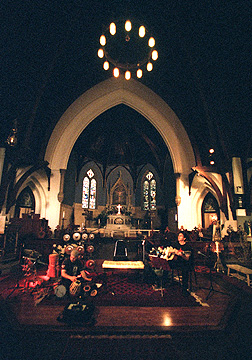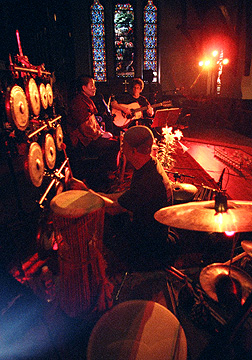 Choying Drolma - Steve Tibbetts - Marc Anderson
Soundcheck at St. Mary's Hamilton Village, Philadelphia, PA
The Gatherings Concert Series - 9 April 2005
---
Related Links:
Artists