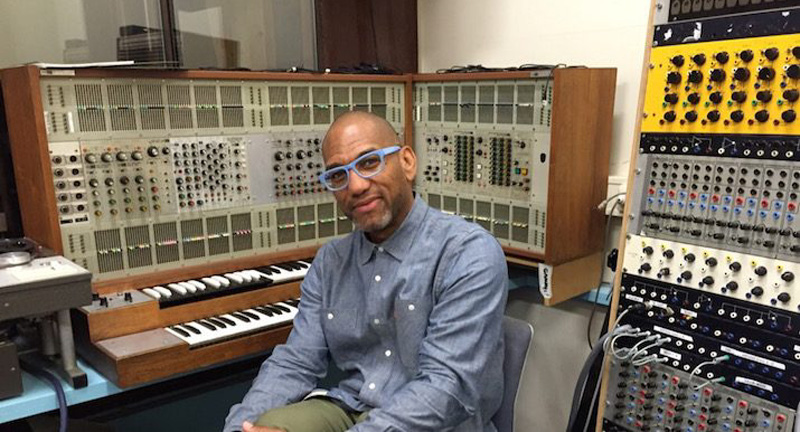 I first met King Britt in 1993. I got to hang out, watch and listen while a friend (the extraordinary guitarist Dave Manley) worked on a music project at Third Story, the noted West Philadelphia recording studio. I felt priviledged to attend this late night production session, where I was permitted to observe the behind-the-scenes work that goes into recording and releasing music. I also briefly made the acquaintence of a few renowned music producers - including King Britt - who really touched me with his knowledge and appreciation of my work with the STAR'S END radio program.
Now it is the first week in July 2017, and King Britt and I are taking lunch together at La Cafe Maude in Northern Liberties, filling in the events and revelations of the intervening years since our first meeting, planning his live-to-air STAR'S END session of 07.30.17 and going deep into his new album After... with his project Fhloston Paradigm
As King Britt was making ready his upcoming live shows in support of After..., he took time to take part in this interview for our monthly Sound Out feature.
I hope you will take time to read through to the end my interview with King Britt. The world knows much about his beat/groove driven work, but here we learn about the man's more serene side, his texture, and how deep his skills and feelings truly go. Thanks! -chuckv

---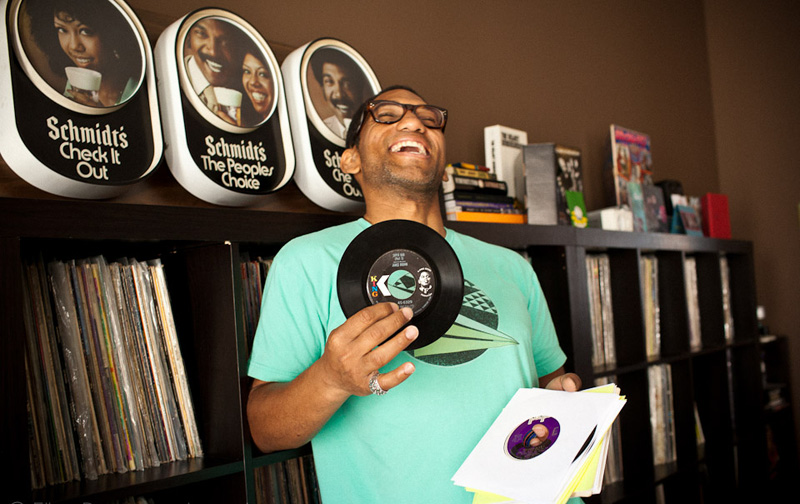 STAR'S END: From what generation do you come from? What did you see and feel growing up?
King Britt: My generation is an interesting one. I'm from a generation that lived through the the transition from analog to digital. To be a part of this metamorphosis is truly a mind blowing experience.
Growing up, I was in a household with two jazz and funk music fans (my parents). I heard everything from Dee Dee Bridgewater to Funkadelic. I witnessed the evolution of the mediums vinyl to 8 track to cassette to CD to MP3 back to vinyl.
I felt that I would someday be a part of a musical legacy and history.
I've seen things like watch phones in Star Trek and in the movies manifest into the Apple Watch 40 years later. It's crazy!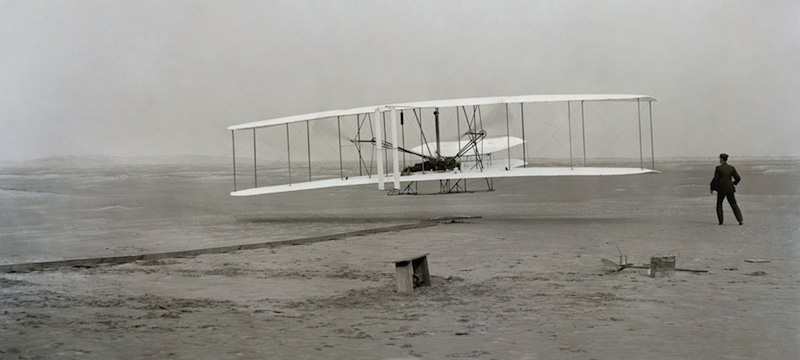 STAR'S END: What is mankind's greatest invention?
King Britt: I'm not sure people would agree with me, but as a global citizen, the airplane still blows my mind to this day. For us as humans, not to be able to fly, but we built something that can move hundreds of people across the world in midair - with all that weight - is still the greatest thing I will ever see in my lifetime. Some will say the space ship is mankind's greatest invention, but I haven't been on one, yet!

STAR'S END: Please list your five favorite Cosmic/Ambient/Spacemusic albums?
King Britt:
e2e4 by Manuel Göttsching: One of the original Ash Ra Tempel members gone rouge! HaHaHa! A beautifully textured album of one complete guitar focused song. I used to hear this at Dave Mancuso's The Loft in NYC when my good friend Colleen Murphy would spin. Sublime!
Ambient 3 by Laraaji (produced by Brain Eno): A transformative journey into the zither! I was proud to know he was from Philadelphia and was recognized by someone as important as Brian Eno. This is my morning meditation album most of the time.
Filigree and Shadow by This Mortal Coil: One of my favorite all-time collective studio groups from one of my all time favorite labels - 4AD. The result of the visionary and owner of 4AD Ivo, This Mortal Coil was all of the acts on the label covering carefully curated songs, creating a mood of mystery, softness and dark intentions. My high-school go-to when I needed escape.
Arrival (OST) by Jóhann Jóhannsson: An album that should have gotten an Oscar and Grammy, this soundtrack doesn't need the film. It is otherworldly in every sense of the word. It's my late-night alien retreat.
Spirit of Eden by Talk Talk: I'm sure many have listed this as their favorite album. For me it really changed the way I think about my career. I loved this band since their debut 12" when I was in 9th grade. For a band with so much commercial success to do an album so fragile and emotional gave me hope that people will embrace the evolution of an artist. This album really changed the game on how to create a entire opus (of course, learned from Pink Floyd).

STAR'S END: Top five movies?
King Britt:
Buffalo '66
Empire Strikes Back
Hollywood Shuffle
Kagemusha
Fifth Element

STAR'S END: What's it like where you live? What was it like where you grew up? What's it like where you want to be?
King Britt:
Where I live now, gentrified
Where I grew up, colorful
Where I will be, paradise (beach, studio & my love)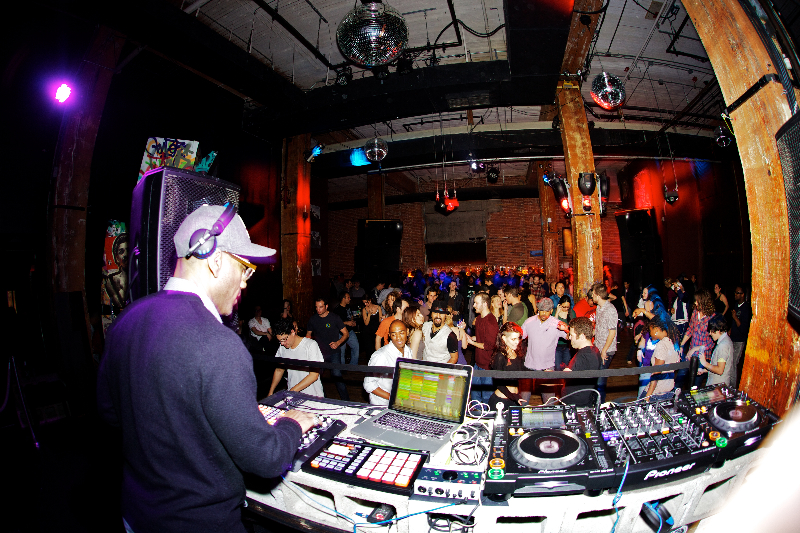 STAR'S END: What changed about the world once you saw more of it? What changed about Philadelphia once you saw more of the world?
King Britt: Wow... I felt more of an appreciation for Philadelphia as my home, once I saw the world. It's a great place to grow up and have a home base while traveling. I appreciate the familiar.
I learned that we are all connected thru music, and that music is the most powerful language of the cosmos. Traveling the world, bringing everyone together, is a powerful gift.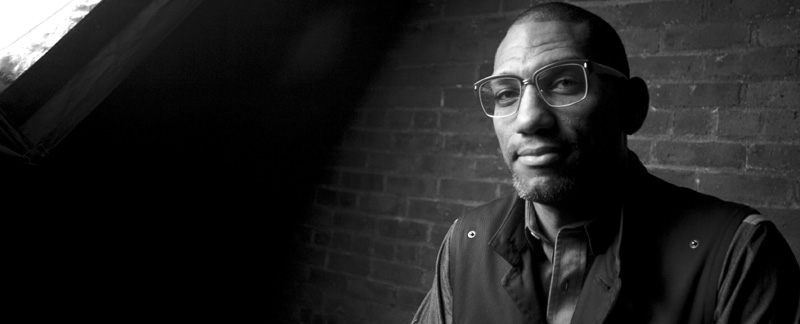 STAR'S END: What is your relationship to STAR'S END?
King Britt: I discovered STAR'S END through my good friend Michel Pollizi who had a show on WXPN in the 1980s too. Your show (STAR'S END) was my soundtrack to many intimate moments in my life. I would also listen to the last half of your show thru osmosis (while asleep), and then wake up in Sleepy Hollow. This is always a wonderful journey!

STAR'S END: What are your five favorite places anywhere?
King Britt:
Tokyo - for the culture and love
Bali - for the divine connection
Philadelphia - for the stability
Puerto Rico - for the beauty
Maui - for the nature

STAR'S END: What does "Fhlotson Paradigm" mean? Compare the mood of your Fhloston Paradigm album After... with that of your other releases, and explain how and why this project happened?
King Britt: Well, Fhloston Paradise is a place where contest winners go for exotic vacations in The Fifth Element movie. So one time I said the name wrong, and my friend at the time said, "keep it Paradigm" ... so there really isn't a deep meaning to it. But as I did the project it felt a bit like a paradigm shift in my consciousness.
The mood of this project truly reflects how I feel my place is in the world / universe. Expansive, beautiful, and full of life. More so than any of my other releases. The project happened because it was time to.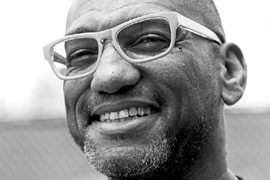 STAR'S END: It seems that just about every track on After... is a beautiful collaboration. Did you need help getting to the place of this music?
King Britt: Not at all. In the beginning it was a bit awkward, as I usually start out my music projects with drums. So doing a rhythmic album with no drums was an extremely fun challenge to create. But creating what's in my head has always been a gift.
STAR'S END: How do you explain this deep work to the uninitiated?
King Britt: A sonic journey into polyrhythmic primal energy, through electronics.
STAR'S END: Have you a definition of Spacemusic? Ambient Music?
King Britt: Music that allows for space to think, space to move, space to be free.
STAR'S END: You'll be in to play a live Space/Ambient set on the 7.30.17 broadcast of STAR'S END. Please expand on what you will put into this set, and what you hope for the listener?
King Britt: My set will consist of an improvised journey using elements of my Fhloston Paradigm album After... as a palette for the foundation. I want the listeners to enter my sonic world and remember this time.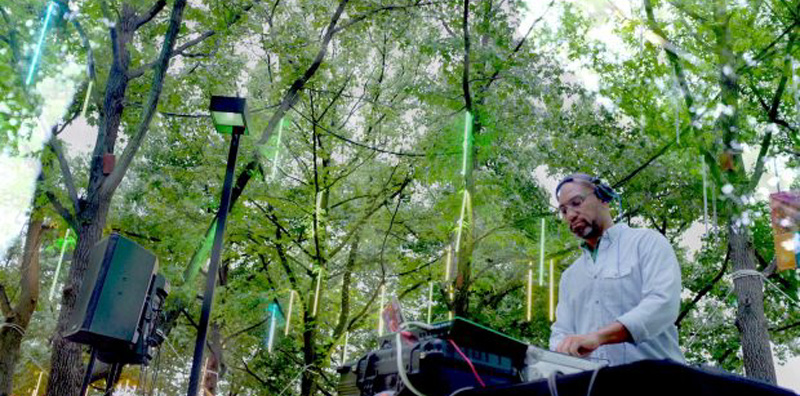 STAR'S END: Does your musical work have a connection to The Divine (to God)?
King Britt: Absolutely! I feel I am a vessel for divine messages and that the Fhloston Paradigm project is the one that allows me the freedom to express that. I was lucky to have vocalists who are also messengers.
-Chuck van Zyl/STAR'S END Interview with King Britt - July 2017
---