STAR'S END arrived at its 25th year of continuous broadcast in 2001. To help mark this milestone. the STAR'S END website has compiled the 25 significant albums that have helped to define, shape and contribute to the radio show and to the musicians, artists and enthusiasts who make up our varied and wonderful community. The selections are highly subjective, so please feel free to make substitutions and additions as you see fit. These 25 albums were selected on the merits of their orginality as well as the lasting impact they have made on STAR'S END and on the many music genres that make up the radio show.
---
The 1970'S
These ten releases, all from the 1970's, were not only among the core group of albums which helped define the premise upon which STAR'S END was founded, they have also been a positive influence on nearly every artist working in the spacemusic genre ever since. These 10 albums were not the first of their kind, nor the pinnacle of each artist's career, but listening to the music released 20 or 30 years later, one can still trace the influence of much of today's modern ambient music back to these essential and enjoyable releases. They also were among the first to bring some mainstream attention to the then nascent genre of "spacemusic".

Inventions For Electric Guitar:
Ash Ra Tempel

Ralf & Florian:
Kraftwerk

Sowiesoso:
Cluster

Mirage:
Klaus Schulze

Rubycon:
Tangerine Dream

No Pussyfooting:
Robert Fripp & Brian Eno

Iceland:
Richard Pinhas

Rainbow Dome Musick:
Steve Hillage

Bruder des Schattens - Soline des Lichts:
Popol Vuh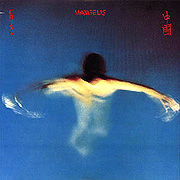 China:
Vangelis
---
The 1980's
Sometimes referred to as "the children of space", the artists who rose to prominence in the 1980's were more than just carrying on the traditions of an earlier generation; they saw creativity as a component of their own personal spirituality. This music has often been associated with the sensibilities advanced by the New Age movement, which also gained some attention during this decade. However tenuous, it was through this useful link that many electronic musicians received substantial notice, reached a wider audience and launched substantial careers. Fueled by everything from music technology to a greater cosmic awareness, a significant number of albums were released during the 1980s. The five listed here are thought to be the most significant in that they represent the best of what the times had to offer with regard to musical sensibilities and in evoking the sense of discovery at what was the outset of a new frontier of sound.

Dreamtime Return:
Steve Roach

Propagation:
Robert Rich

Planetary Unfolding:
Michael Stearns

And The Stars Go With You:
Jonn Serrie

Wunjo:
Giles Reaves
---
The 1990's
Ambient and Space music now came to the attention of a wider audience (and younger generation) as Chillout music, an offshoot of the youth Rave Culture. This decade saw the resurgence of sonic exploration for the sake of pure experimentation. The methods and esthetics had already been around for 20 years; so rather than trying to equal the giants who had gone before them, these artists stood on their shoulders. With a basic working knowledge of classic EM combined with a more current sense of style, this grouping unselfconsciously covered the familiar and went off into new directions. The music realized possessed a new character, unique to the generation and time through which it was created. Much of this decade's music was meant to be part of a scene rather than a complete listening experience in and of itself. But, the essential releases of the '90s were this and more; an inspiration by and evocation of more substantial concerns: globalization, the human condition and the journey inward.

Outfolding:
Saul Stokes

Ambient Compilation 3:
Pete Namlook

76:14:
Global Communication
Flying High:
The Irresistible Force

Masters of Psychedelic Ambiance:
Atom Heart & Tetsu Inoue
---
Various
Some of the difficulties when making a list or compilation, beyond omitting something, is trying to make what you have selected fit neatly. The albums shown below do not have a strong relationship to one another - other than their inclusion in this list. They may belong to one of the groups above, but can not fit in the space allowed; but for the most part, their merits are so singular as to force them to exist entirely unto themselves.
Hearing Solar Winds:
David Hykes and the Harmonic Choir

Meditation:
Eberhard Schoener

The Nightcrawlers:
The Nightcrawlers

Shri Camel:
Terry Riley

Music For Airports:
Brian Eno
A beautiful, spacious album of ethereal music created entirely acoustically in a revererant space with a choir of overtone singers.
Smooth and deep dark drones that combines German school esthetics and medatative qualities of eastern cultures. A fine example of a musical message being conveyed through the use of timbre and texture.
Along with strong contributions to Philadelphia's spacemusic scene and international cassette culture of the '80s; the Nightcrawlers were an inspiration to many underground artists who saw their self- produced albums as the standard in the then new field of independent music.
Combining eastern philosophy with the avant-garde, this album is our connection between spacemusic and 20th century minimalism.
Using the idea of indeterminacy along with melody and harmony, this music is as interesting as its concept. One of the hallmarks of ambient music.
Text Version
Resource Guide
10.28.01 Playlist