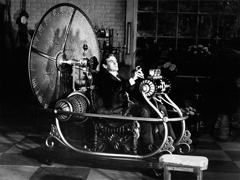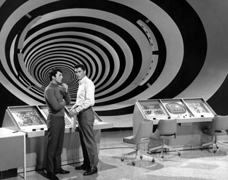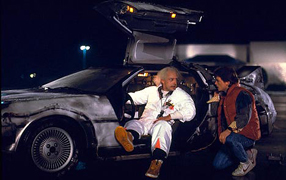 The STAR'S END "Back in Time" Radio Concert 2013
Sunday 3 November 2013
live on
STAR'S END Ambient Radio
88.5FM WXPN Philadelphia
with
The Tangent Project
Jason Sloan
Tim Motzer
Codex Gigas
Charles Cohen
Ombient
---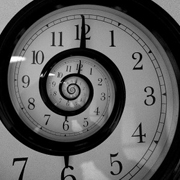 Live Music Throughout the Night on the 2013 "Back in Time" Edition of STAR'S END
In the midst of every Fall season clocks are turned back one hour and most of the USA returns to Standard Daylight Time. Any respectable STAR'S END listener knows that each year on this night the radio show broadcast is one hour longer in length - and the snapping back of the clocks seems indeed a crude form of time travel. We watch and listen as STAR'S END begins at 1:00AM and the opening hour progresses, that is until 1:59AM - after which the clock magically pops back to 1:00AM never quite making it to 2:00AM on the first try.
In 2013 the annual clock change occurred during the 3 November 2013 broadcast of STAR'S END - which featured a special "Back in Time" presentation of six live Spacemusic acts performing during each of the six one hour segments of this extra-long broadcast. It is believed that an enterprise of this nature has never been attempted before anywhere. Thanks to the musicians, to Jeff Towne (technical oversight and application) and to everyone who tuned in to The Big Broadcast of 11.03.13 and our historic evening of live original Spacemusic from STAR'S END.
Please see below for concert photos and background on the artists.
---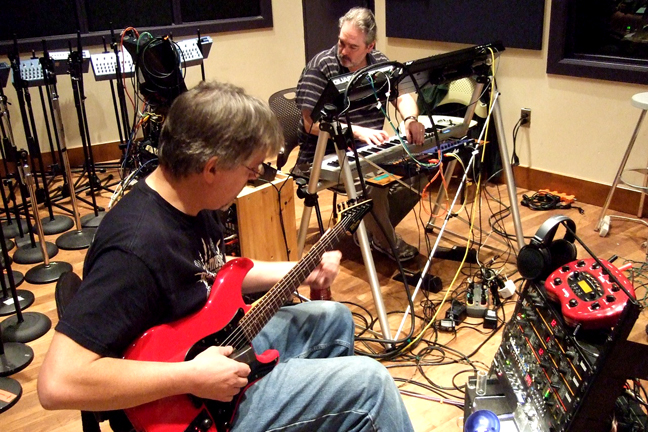 The Tangent Project - 1:00AM (Daylight Saving Time)
Both Jeff Coulter and Harrison McKay have been kicking around the Philadelphia Spacemusic scene for over 25 years. Coulter, along with Chris Schwartz, played in the cosmic music duo Tangent, while elsewhere McKay composed ethereal music for dance in addition to his solo Ambient works. More recently these two have been working together as The Tangent Project. Experimenting with sounds and textures reminiscent of the classics Zeit and Phaedra this approach incorporates their own unique sensibilities and outlook. Coulter's sequencer runs, synth pads and melodies all move at different speeds while McKay's processed guitar alternates between emitting atmospheric textures and liquid lead solos. Their realizations are in constant motion, either pushing forward, or churning in stillness, or at some indistinct level in between. Coulter and McKay explore areas of both dark and light. Their music is a culmination of a lifetime worth of experience.
For more on The Tangent Project, access the STAR'S END Profile
---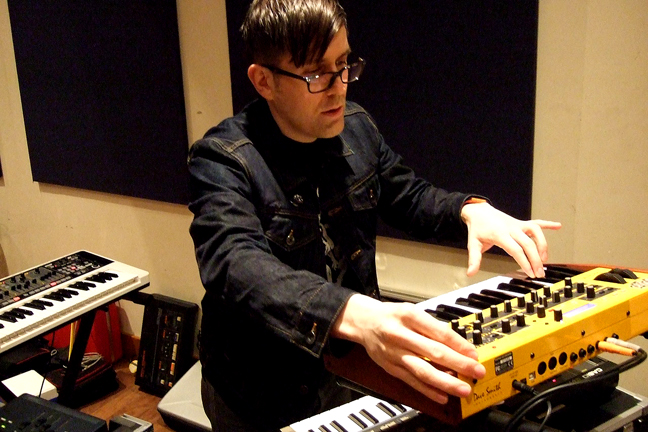 Jason Sloan - 1:00AM (Standard Daylight Time)
Exploring sound, texture and atmosphere, the music of Jason Sloan is smooth and spacious. It opens up and fills ambient areas with the slow motion of sustaining chords and a gradual metamorphosis of timbre. By adding the elements of rhythm and melody, his works provide a surprisingly deeper examination of the interior landscape. With layers of reverberant tones over sampled percussion loops or cloud-soft synth pads churning alongside digital-age beats, Sloan's musical ideas posses a shimmering exuberance. Expanding beyond the uniformity of structure found on his early drone-like works, the energy of fuller arrangements is subdued by dreamy atmospherics. Sparking then smoldering, his music plays out across an ever-changing landscape, and deserves praise for aiming so high.
For more on Jason Sloan, access the STAR'S END Profile
---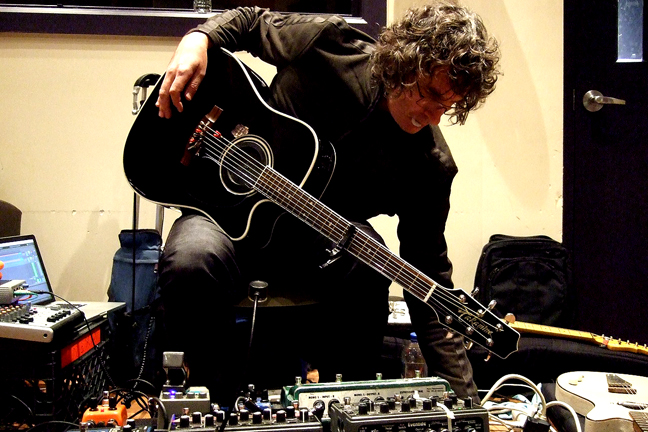 Tim Motzer - 2:00AM (Standard Daylight Time)
Guitarist Tim Motzer has carved out a prominent place in the Philadelphia music scene in ensembles and as a solo artist, ranging from straight-up funk to atmospheric dance accompaniment and Spacemusic soundscapes. Experiencing his many projects we hear a common thread or voice. A rhythmic feel runs through playing he describes as a "Philly Soul-Funk Thing", tinted by a certain grittiness that captures the life force, struggle, and fight that is ever-present within the City of Brotherly Love. Another identifiable component of Motzer's music is that of the ethereal - which presents itself through the use of sustain and looping effects, E-Bow and cavernous reverberation. But Motzer shows no concern over his diverse musical identity. Going with the flow of each playing situation his goal is to just enjoy the immersive, constant challange each project represents. Pursuing so many different paths keeps wide open the number of projects he is available for and has participated in. Yet with so many growth experiences to his credit Motzer points out that creating textural/atmospheric music is always the least limiting. His purpose here is to evolve the genre (and the listener) from a zone of no thought - where ideas are flowing through.
For more on Tim Motzer, access the STAR'S END Profile
---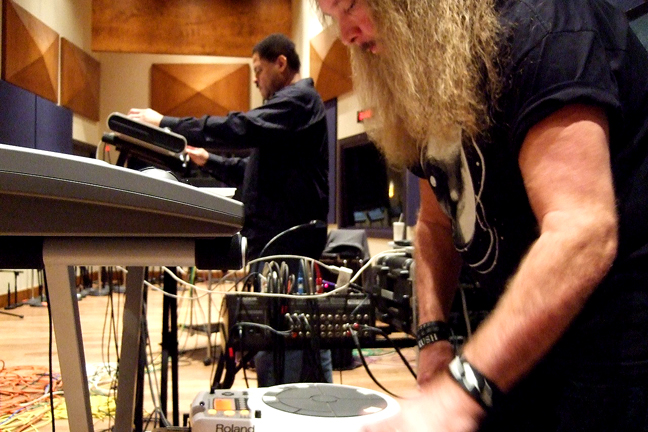 Codex Gigas - 3:00AM (Standard Daylight Time)
Codex Gigas is the South Jersey synthesizer duo of George Martindell and Roycee Martin. These friends both share a passion and understanding of Electronic Music and in 2012 decided to begin creating improvisations together. They realize their own unique style of music which incorporates elements of progressive instrumental, electronic, ethnic, industrial, ambient, electronica, and soundtrack music. Their work at times can be celestial and creepy, then more focused and hot. Reflecting upon their musical influences Codex Gigas approaches sound creation with an open mind, informed by the music technology of today. Codex Gigas made their concert debut on the 11.03.13 broadcast of STAR'S END.
For more on Codex Gigas, access the STAR'S END Profile
---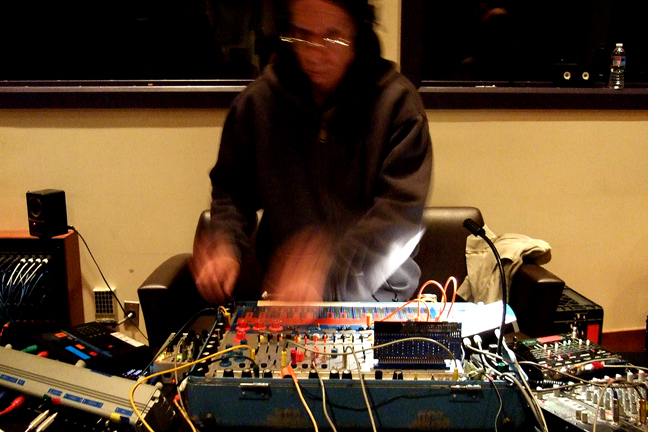 Charles Cohen - 4:00AM (Standard Daylight Time)
Based in the Philadelphia area, Charles Cohen has been amazing and challenging Electronic Music audiences for over 30 years. His music is entirely improvisational and produced with a vintage Buchla Music Easel synthesizer at its center. An avid collaborator, Charles Cohen may be well known to Philadelphia and the STAR'S END radio community through his early work with Jeff Cain and their duo The Ghostwriters.
Concentrating on creating Electronic Music in the setting of the live performance space his recent musical endeavors explore the completely abstract realm of noise music. Yet in a recent turn of events Charles Cohen has decided to re-visit his Ambient roots to realize a befitting radio concert piece for the "Back in Time" broadcast which has been informed by the last several years of work in sound with indefinite pitch. For Charles Cohen each performance is original and new - to the audience and to the artist himself.
For more on Charles Cohen, access the STAR'S END Profile
---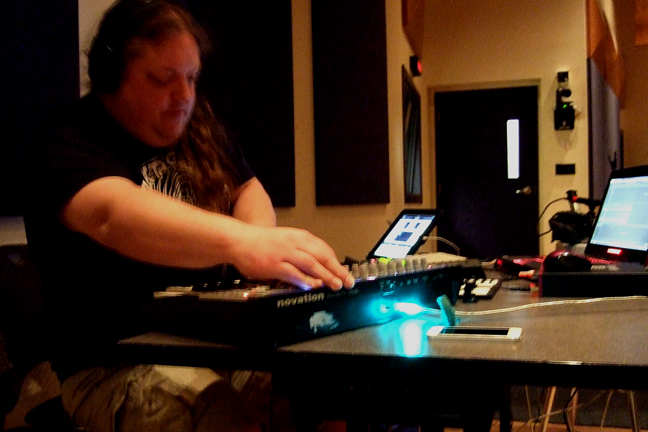 Ombient - 5:00AM (Standard Daylight Time)
Ombient is but one facet of multi-instrumentalist Mike Hunter. As well as exploring his more ethereal side by producing the weekly radio program Music with Space for WPRB Princeton, in his live concert performances Hunter creates a variety of original Ambient/Spacemusic soundscapes. Using a Warr Touch Guitar (a metal stringed guitar-like instrument designed for two-handed playing and extended sound generation) his live loop music spans the Space, Ambient, Experimental and New Age genres. Well-versed in the latest computer technology and software Hunter may just as easily utilize a laptop, iPad or iPhone in generating a fascinating range of sounds and forms. Hunter is also a collector of vintage and modern, retro synthesizers, sequencers and effects. Possessed by a unique atmospheric sensitivity he explores the sonic territory of the 1970s Berlin-School.
For more on Ombient, access the STAR'S END Profile
---
11.03.13 Playlist Broadcast Artists Background Gatherings Events Update STAR'S END Home XPN