---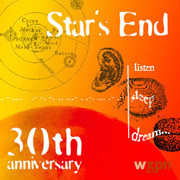 STAR'S END 30th Anniversary Anthology CD
To mark 30 years of continuous broadcast of STAR'S END, WXPN is releasing the STAR'S END 30th Anniversary Anthology CD. This double CD contains over 120 minutes of live music from 12 renowned artists. The unique performances were culled from on-air in-studio radio concerts by some of our community's greatest talents. Included on the disc are previously unreleased live selections donated by: The Ministry of Inside Things, Orbital Decay, Ian Boddy, AirSculpture, Radio Massacre International, Robert Rich, Rudy Adrian, Jonn Serrie, Jeff Pearce, Saul Stokes and Steve Roach.
STAR'S END 30th Anniversary CD Anthology
---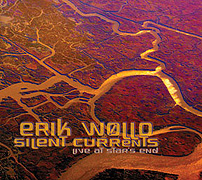 Silent Currents: released by Projekt Records
Over the years STAR'S END has hosted many live to air concerts, usually with artists fresh from The Gatherings Concert Series stage. The act of playing a second more intimate concert after a public event provides a sense of summation to a powerful experience. But the unique radio venue also offers musicians a space for discovery, as they turn from focused music for The Gatherings community to atmospheres for a radio audience each in their own dream space.
Erik Wøllo enthusiastically embraces this idea, using his on-air concerts to explore moods and zones only found in the late hour and unconventional situation. With each amazing performance in Philadelphia his art advances. Every outing seems to raise the music to a new plateau.
There is an interesting energy arcing through Silent Currents. During his STAR'S END sessions Erik descends into himself, realizing music completely in the moment. The resulting new works are wonderful expressions of ambience, texture and this artist's potent sense of drama - as Erik Wøllo creates space, then fills it with ever evolving sound.
For more on Silent Currents please access: www.projekt.com
---
Related Links: