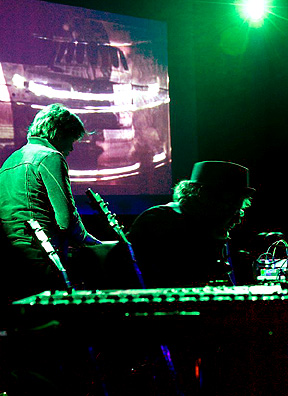 According to Mark Byrd, "Our philosophy has always been 'capture the sounds inside you and see where they want to take you'." And if an artist is realizing honest recordings, those sounds will lead to every place and through every emotion and experience. Hammock's music, like the world outside, overflows with beauty and tension, melancholy and hope. All equally abiding.
Hammock clearly have their heads in the clouds. The music floats on an echo-y haze, but this is not mere drone music; dreamy synths and cello twist and curve to alluring effect. This duo has a deep understanding of sound, as well as the relationships between sounds.
Ultimately Byrd adds, "It's just music. We were always hopeful that because we didn't have any presuppositions about exactly what the music should be, that people would listen in the same manner."
Hammock (Mark Byrd and Andrew Thompson on electric guitars and Matt Slocum on cello) will be making their Philadelphia concert debut at The Gatherings Concert Series on Saturday 17 October 2009.