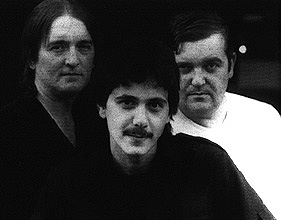 The Nightcrawlers began as brothers Peter D Gulch and Tom Gulch became so influenced by the new Electronic Spacemusic coming out of Germany in the 1970s that they gave up all other pursuits to focus attention on searching out more music by the heroes of the day: Tangerine Dream, Klaus Schulze, Popol Vuh, Ash Ra Tempel, Kalheinz Stockhausen and many others

Upon acquiring their own means of expressing themselves musically in the mode of the Berlin-School, Peter and Tom were joined by Dave Lunt and The Nightcrawlers became established. Jamming together in a garage, they evetually brought their music out to public venues and festivals. These many sessions were recorded and ultimately produced into 35 audiocassette releases - an effort which almost single-handedly launched the cassette underground.

Throughout the 1980s The Nightcrawlers were prolific concert performers and deserve credit for contributions to Philadelphia's then dawning Electronic Music scene. Before the introduction of MIDI, and the more stable and compact music equipment of today, performing Spacemusic live was a considerable task. Always showing up at concerts with a truckload of gear, The Nightcrawlers would take hours to set up. Through their concert efforts, they influenced many individuals to explore the idea of making their own music, helped develop new venues, and brought to the attention of an unaware public that Electronic Music existed and was more than just a studio art.

Fueled by the illusion that an artist's potential is limitless, The Nightcrawlers perfected live, improvised, real-time composition - the three musicians fully realizing their work in its commission. Possessing a brutish edge, they exerted a serene, secure authority and their numerous jams and live concerts became the learning ground for many emerging artists.
---
Peter D Gulch - The Nightcrawlers Interview 22 May 2016
---
Tom Masapollo - The Nightcrawlers Interview 10 July 2016
---
Chuck van Zyl - The Nightcrawlers Interview 25 August 2016