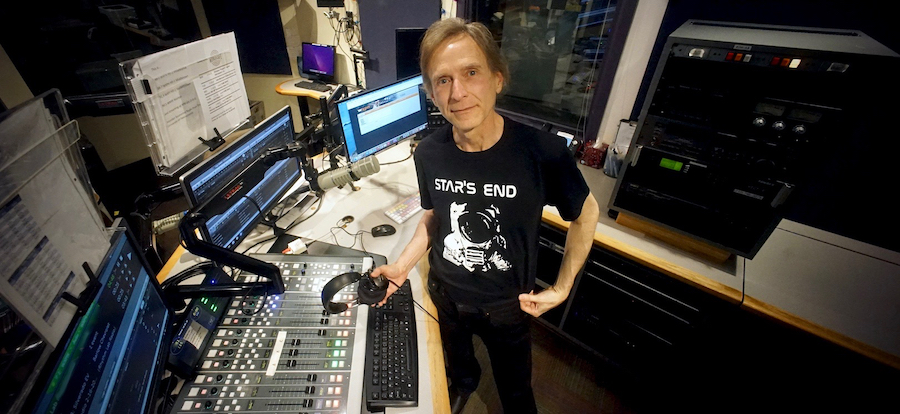 Every weekend from 1-6AM Saturday night/Sunday morning will find me at WXPN's broadcast studio in West Philadelphia presenting Star's End, - spinning a wealth of Ambient, Ethereal, Innovative Spacemusic out over the airwaves. My playlists attempt to be as diverse as possible, while keeping within the spacey format - and includes music from all over the world, by different generations, from a range of genres, cultures and backgrounds.
With each on-air outing I am pursuing the ideal of producing something larger than the sum of its parts - where all the individual tracks take on greater meaning and effect when mixed together into the five-hour, flowing soundscape of Star's End.
Airing continuously in its time slot on WXPN since 1976 Star's End has been offering a unique and consistent presentation of music for nearly 50 years. The most important person in this endeavor has always been the listener. For you Star's End is a refuge, a space for personal devotion. It's also a place that welcomes an ever-growing worldwide community of emerging musicians - heard right alongside the venerable standards and classics from the earliest days.
In Winter 2022 listeners to Public Radio Station WXPN were again asked to pledge their financial support to Star's End. Public Radio exists through funding from its listeners, and periodic on-air fundraisers are the most sensible method to meet fiscal goals.
Giving to Public Radio continues to be a meaningful gesture. During the broadcast of 20 February 2022 Star's End spent the entire night in a fundraising effort, and was counting on your help. Thanks for staying up, tuning in and calling in, or going online to make your donation.
Sincere Thanks to everyone who did their part!
-Chuck van Zyl: Host of STAR'S END (20 February 2022)
---
Special 2022 Fundraising Thank-You Gift
Please Note: The 02.20.22 broadcast of STAR'S END offered one special Special Thank You Gift: the first ever WXPN produced STAR'S END T-Shirt (Thanks to listener Neil Cippon for his help with the graphic). According to WXPN's Membership Department, this new item resulted in approximately $17,000.00 in donations from an estimated 133 donors throughout the Winter 2022 on-air fund drive - which establishes a new fundraising record for STAR'S END. The STAR'S END T-Shirt has been sent out to donors by the WXPN Membership Department!