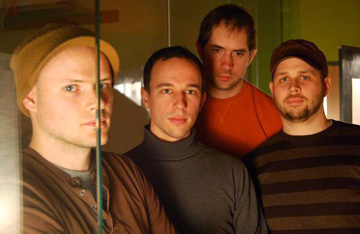 Soporus is a Philadelphia-based ambient drone ensemble which features guitarist and keyboardist Matthew Stone and bassist William Stichter (Matthew Thomas sitting in) from well-known instrumental act Saxon Shore along with guitarist Stephen Hoffman (and John Donahue). Their live performances feature films and videos edited on the fly by additional member Michael Stichter.

As children of the Cold War era, Soporus are heavily influenced by a lifelong fascination with the quiet power of nuclear energy - the seemingly miraculous ability to calmly harness intense reactions coupled with the lingering fear of potential disaster. Soporus continue with the nuclear power plant themes established on their debut ep, At&ogravemov&egrave Elektr&agraverne, with their full-length 24,110.

Soporus played a live in-studio radio concert on the 05.10.09 broadcast of STAR'S END and opened for Ben Neill at The Gatherings Concert Series in Philadelphia on 16 May 2009.