---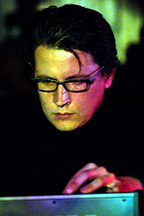 Spyra - live on STAR'S END 03.25.07
Spyra made his east-coast concert debut in Philadelphia on 24 March 2007 as part of The Gatherings Concert Series. Following this concert, Spyra played a live set of new late-night Ambient music on the 03.25.07 broadcast of STAR'S END. Excerpts from this performance were included on the CD High Phidelity. See below for photos.
Spyra returns to Philadelphia and The Gatherings Concert Series on 15 May 2010.
For details, access: www.thegatherings.org
Afterwards, Spyra will play a live set on the 05.16.10 broadcast of STAR'S END.