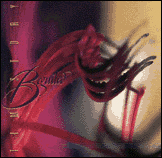 Tim Story -
Beguiled (Hearts of Space)
"Like a sigh, or a moment without thought that makes things clear, Tim Story's music is potent in its simplicity... Like Erik Satie without the sarcasm, Story injects a sense of ambiguity into his miniatures, suggesting emotions for which there are no words... Story's melodies, played with uncommon delicacy, embody passion at a whisper. Often enhanced by the velvet richness of Martha Reikow's cello, this is graceful, visceral chamber music for 21st-century romantics."
-- PULSE, USA
~
"Beguile is a unique verb with two almost completely contradictory meanings. The original, almost archaic: to mislead by guile or deceit; more commonly, to charm or delight; to lure; to pass time pleasantly. Tim Story's gently epic soundscapes and brief, intimate, deeply felt modern chamber pieces yield up this kind of richly equivocal meaning.
Story's musical evolution has always plied a steady course. Beguiled, his 6th album in a resolutely consistent recording career spanning over ten years, is the finest realization yet of the musical concerns that have motivated him from the beginning.
Ponder his titles for a moment and it becomes clear. Story is heir to the tradition of ironic miniaturists most famously embodied by French composer Erik Satie. (Harold Budd is a modern example.) Consciously antidramatic, these artists shunned the grandiose formalities and weighty thematics of the German symphonic establishment in favor of complex, highly structured melodic music for solo instruments and small ensembles.
In their use of modest forces they aligned themselves with the chamber music tradition, but here also they departed from the norm; instead of somber introspection they explored the emotional poetics of ambiguity, irreverance, and irony, with fresh, unusual harmonies and subtle, disarming melodies. In this music, what appears simple on first hearing mysteriously expands, enfolds, and ultimately beguiles with time and repetition.
Like his precursors, Story works primarily with vernacular instruments of the day -- piano, guitar, and the endlessly malleable timbres of electronic keyboards. Like a good modernist, he sets his delicate dramas in an expanded reverberant soundscape. But his mysterious presence, unqualified emotionality, and taste for the 'sublime' mark him as a romantic for the digital era."
Review Source: Hearts of Space website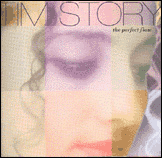 Tim Story -
The Perfect Flaw (Hearts of Space)
"There is such a thing as a perfect flaw. It's a single cloud that roams across the sky on a summer day, a moment of pain that deepens and strengthens a relationship, a mistake that leads an artist or a scientist to explore a whole new area of possibility.

Tim Story understands this phenomenon. In fact, he has developed a technique for making it happen at will to fuel his aesthetic strategy as a composer and instrumentalist. On his cunningly titled latest release, odd and angular melodies run rampant with a grace that turns the unexpected into the most sublime of moments.
The 11 short pieces on his latest venture come with evocative titles like "Liquid Shadow Night," "The Color of Vowels," and "Until She Fades Away." At less than five minutes each, they appear deceptively simple. The nuances reflected in each selection bring to mind the pleasure of staring at a finely cut diamond in a plain gold setting. Just as such a gem catches available light in infinitely intriguing ways, Story's music speaks with an open-ended lyricism that changes and evolves over repeated listenings. His elegant, understated instrumentals satisfy people who crave melody but would like to see it taken beyond the predictability and sentimentality that rule most forms of contemporary music.
You can compare his style to ironic miniaturists like early 20th-century French composer Erik Satie. You can mention Story's accomplished union of acoustic grand piano, oboe, clarinet, English horn and cello with subtle, finely-crafted electronic sounds. You can quote journalists who have characterized his approach as "graceful, visceral chamber music for 21st century romantics" (Pulse! 1992). The one thing you can't begin to do is describe the individual pieces themselves, for Story takes listeners to places that words can't follow.
His is the language of the soul whispering behind the brain, the intricacies of feeling that stir though the body and yet ultimately leave us speechless. Poets can paint a vague outline of this landscape with their metaphors and suggestions, but only certain kinds of music can take you on a full fledged tour of living emotions: those contantly churning, ambiguous sensations that make you cry at the bittersweet ending of a tragic film yet want to go back and see it again and again. It's this passion for the ironies of life that drives Story's music. The composer himself has described his approach as "a desperate serenity," and he achieves the effect through subtly dissonant melodies that are refined to the point where they flow effortlessly with an integrity and beauty all their own.
Of course with Tim Story, it's not light catching the eye that creates the magic. It's the feelings, memories and dreams each individual brings to the music that creates a synthesis of sound and emotion that can never be heard the same way twice."
Review Source: Hearts of Space website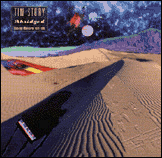 Tim Story -
Abridged (Hearts of Space)
"The tension or 'edge' in Tim's music has distinguished him from a great number of his contemporaries. Things are rarely as they seem; an innocent melody is countered with a more knowing refrain, a jaunty veneer belies an attendent uneasiness. You get the feeling that, despite the beautiful melodies, there's often some nagging doubt.
Abridged, then, is a catalog of emotions all perfectly parcelled up in miniature. The pieces are modest in scale, private in nature, but live with them and they will reveal more of their character with each listen. Tim, of course, has since developed his style with subsequent releases, including the recent Beguiled and The Perfect Flaw, on Hearts of Space. But Abridged is a timely and welcome reminder of - or indeed introduction to - Tim's early music. I hope you enjoy it as much as I have."
Liner Notes by David Elliott
Review Source: Hearts of Space website
~
"A gorgeous and serene collection of contemporary chamber pieces. Tim Story's compositions are enigmatic gems, full of subtlety and nuance, with understated but deeply moving melodies, tinged with dissonance... With intriguing titles like 'Liquid Shadow Night,' 'Sister of the Flood,' and 'The Color of Vowels,' these lovely compositions are matched by their emotional depth, making this an immensely appealing work whose perfection is everywhere apparent."
-- REEL TO REAL NEWS, USA
~

"His grand piano and synthesizer are joined by oboe, English horn, cello, and clarinet for delightful, often haunting melodies that weave tapestries of subtle emotions and imagery in a remarkably cohesive collection."
-- THE TOLEDO BLADE, USA
~

"A definitive album from this veteran composer who has quietly carved a niche for his ambient chamber music. Story's orchestrations for piano, synthesizers, oboe, cello, and clarinet are wrapped around melodies that linger and probe. Comparisons to Debussy would not be out of place, but this isn't pseudo-classical music. These are thoroughly modern atmospheres conceived with taste, skill, and subtelty."
(* Critics Choice Award)
-- BILLBOARD, USA