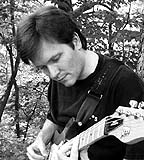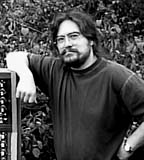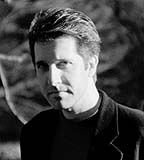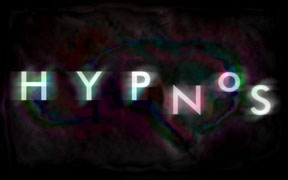 On 19 October 2002, the Gatherings Concert Series brought Jeff Pearce and Mike Griffin + Dave Fulton to Philadelphia for a live concert. The concert was well received by an enthusiastic audience and following the event, the trio played on into the night on STAR'S END.
The 10.20.02 broadcast of STAR'S END presented a live on-air in-studio radio concert with Hypnos recording artists Jeff Pearce, Mike Griffin and Dave Fulton. Over the course of three hours, the trio performed together, solo and in multiple configurations - producing new and interesting, improvisational electronic soundscapes. this was their first interaction as artists and yielded deep and substantial music and lasting ties between the artists.
Jeff Pearce is well known to the Spacemusic community for his unique approach to the guitar. Pearce produces unique tones on the electric guitar as they are processed, delayed, distorted and looped to create complex harmonies and timbres. His music is compelling and moody, traversing the Space, Ambient, Experimental and New Age genres. Pearce has released several accomplished albums featuring sublime soundscapes and original compositions, including The Light Beyond which was recorded live (06.11.00) during one of Pearce's numerous STAR'S END live in-studio radio concerts.

Dave Fulton works with modular synthesizers, synths whose virtues are: no presets, no memory, no hard wiring and no boundaries in programming flexibility. Part mad scientist, part sonic visionary, Fulton's command of the array of custom designed electronics at his disposal is formidable.

Based in Portland, OR, Fulton also performs with the ensemble Dweller At The Threshold, who've released several original albums of Berlin-School inspired spacemusic and performed live in Philadelphia at The Gatherings Concert Series on 23 September 2000.

Mike Griffin's orientation to music is more cerebral, building and deconstructing a composition mentally rather than linearly in real time. Griffin's music deals with ambience, nuance and perspective. He is an avid collaborator and has demonstrated his compositional and production skills on several critically acclaimed albums.

Also based in Portland, OR, Griffin is widely known for his incredible work with Hypnos Records. Started as a means to release ambient music by Griffin and his circle of friends, the label has grown to international proportions and is a major asset to the ambient/spacemusic community worldwide.

Along with releasing several solo albums and collaborations, namely with his group Viridian Sun, together with Fulton, Griffin has released two albums of solid cerebral electronic music: Imprint and The Most Distant Point Known.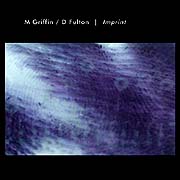 If their last collaboration, "The Most Distant Point Known", evoked images of sci-fi and deep space, Imprint does even more so. Whereas the last disc tended toward darker ambience this one, while still on the mellow side, has a little more activity. For instance, the coolest sound effects begin "Please Identify". Both Griffin and Fulton are technical wizards, and the spatial separation here as it pans from left to right is excellent, giving it a great deal of depth. "Biometric" has a similar feel of expansiveness. Swirling sweeping sounds whish and whoosh about. I envision robots, or the inner workings of a spaceship. Though "Biometric" is quite abstract, beautiful dramatic synth strings appear for the last third of the 11-minute journey, giving it more of a retro feel. The title track comes next, full of buzzes and bleeps that again conjure up visuals of a science fiction film. An energetic sequence picks up the pace for just awhile, fading out into what could be alien night sounds. Fulton's influence is particularly notable on "Thermoptic Disguise", which could easily pass for a Dweller At The Threshold track. "Plastic and Flesh" may be my favourite, featuring cool bell tones, then organ almost like the krautrock days of old Ash Ra Tempel. The organ hangs around lazily until a crescendo appears almost out of nowhere. I found the overall effect of the five-minute piece unique, refreshing. "Levitation Before Sunrise" has great textures, choirs, pulses, and a general sense of pent-up energy waiting to be unleashed, only gradually being allowed to escape. Consider Imprint for your next introspective outer space voyage.

Reviewed by: © 2002 Phil Derby Synth Music Direct

---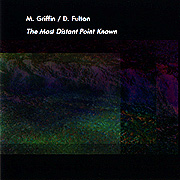 Mike Griffin is known for his ambient and somewhat experimental work, both as a solo artist, and as part of Viridian Sun and other collaborations. Dave Fulton, part of Dweller at the Threshold, is a self-professed lover of progressive rock who tends toward a more active style of electronic music. Their contrasting styles actually turn out to be quite complimentary. The result is more ambient than Dave Fulton, but more accessible than Mike Griffin, and something that neither would have come by on their own.
It's by no means a sequencer album, although 'Lithospheric Flux.' includes a slow pulsing rhythm which girds the atmospheres around it. The synth sounds are very smooth and flowing, always on the verge of forming some structure or melody, but never quite giving in. This gives the music a sense of tension, of continually cresting to where you expect a Dweller lead line to assert itself. The fact that it never emerges does not disappoint, because the electronic sounds used are so cool. 'Source Of All Gravity' is the e-music equivalent of a ping pong ball, with lots of reverb. You can tell Fulton and Griffin had fun putting the sounds together. A sci-fi feel predominates. 'Opposite Horizon' is one of my favourites, a dramatic, deliciously evil-sounding piece for when the bad aliens show up. 'Dark Observer' serves up a deep pulse, similar to 'Lithospheric Flux.' This is the most structured number on the disc, with a great vintage synth lead line, clearly a Fulton touch. The centerpiece of the disc, rightly so, is 'Quadrature,' which is divided into three discrete phases. Together, they total over 25 minutes of the coolest distant space sounds and effects, warbling and gurgling and chugging along. 'Phase 1' goes through a few phases of its own, before settling into bright shimmering metallic sounds, slightly reminiscent of Michael Stearns' spacier works. 'Phase 2' starts dark and formless, but again develops churning sounds and at least the illusion of rhythm midway through. As the pulsing fades away, 'Phase 3' returns to shimmering sounds similar yet distinct from 'Phase 1.' At this point in our space journey, it does indeed sound like we've reached the most distant point known, the edge of some faraway galaxy. I can't say enough about how strongly this disc ends. 'Phase 3' is the epic conclusion, and the brief echoes of 'Curved Beyond Zero' make a deliberate sounding epilogue. I just love how these two pieces go together to wrap things up. A perfect ending to a really fun CD.
Reviewed by: Phil Derby
---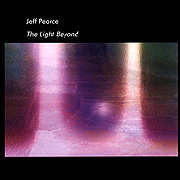 Jeff Pearce has made a name for himself with his own variety of "infinite guitar," heavily processed, reverberating echoes that seem to drift into eternity. In space music circles, particularly in the states, his 'To The Shores Of Heaven' was widely acclaimed. One might expect that his style of treated atmospheric guitar could only come across as a studio production. The Light Beyond proves that is definitely not the case, as it is a live recording from a STAR'S END broadcast out of Philadelphia in June 2000. This is as subtle and delicate as anything he has previously produced in the studio. Technically indexed into four tracks, it actually is almost a continuous hour of slow shifting, drifting and floating. 'Migration of Souls' features an unusual percussive sound. Since I know Jeff prides himself on using only guitar, and since I wasn't at the concert, I can only guess as to how this sound were created. It is distinctive, and adds colour and depth to the recording, my favourite track of the four. A subtle change in tone signals the beginning of 'Across the Infinite Sea,' an appropriate title for the sound picture that develops. This fades almost to silence before the centerpiece of nearly 45 minutes, 'A Farther Shore,' full of shadings of brightness and shimmers. Listeners looking for a sequencer slugfest will be itching for something more to happen, but for ambient fans this should satisfy. As it drifts away, the very brief title track brings similar soothing sounds to draw the disc to a close. Pearce has developed a signature sound, and he doesn't stray from that here, so it's a safe bet that if you liked his other recordings, you will want to pick this one up.
Reviewed by: Phil Derby