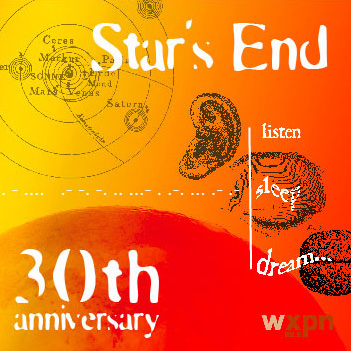 Over its 30 years on WXPN, STAR'S END has featured works from an enourmous cross-section of musicians and overseen the emergence and development of several new styles of electronic and ambient music. What connects the different generations, classes and nationalities is the enduring beauty and spirit present in this music. It is really quite extraordinary how well a 25 or 30 year old classic fits in alongside a newly minted piece.

Integral to the show's acheivements are the people listening. While the works of musicians shape STAR'S END, the audience defines it. STAR'S END has always been about making sleep more interesting, but for an increasing number of people it has become a sonic getaway from the stresses and distractions of 21st century life. The music creates an atmosphere; a tonal narrative within which the listener navigates on their own unique journey. The experience is at the very least singular, and at its most - expansive.

Another aspect of the STAR'S END listenership is how supportive you have been over this unprecedented 30 year run. Compared to programs featuring mainstream music, the STAR'S END audience is small, and the number of those who support the show smaller still. It turns out that as universal as this music is, it is still not yet for everyone. But for those who do "get it" this music has great significance. WXPN and STAR'S END depend on you of this enlightened segment of the radio community to support our mission so we can continue presenting new and innovative music to the world.

As a way of marking 30 years of STAR'S END WXPN has released the STAR'S END 30th Anniversary Anthology CD - a double CD which includes previously unreleased tracks recorded live on STAR'S END by Rudy Adrian, AirSculpture, Ian Boddy, The Ministry of Inside Things, Orbital Decay, Jeff Pearce, Radio Massacre Int'l, Robert Rich, Jonn Serrie and Erik Wollo. This CD is available as a thank you gift to those making a donation to WXPN. For details, call: 1-800-565-WXPN.

STAR'S END 30th Anniversary CD Anthology

Public Radio depends on listener support. At 30 years of continuous broadcast on WXPN, STAR'S END is one of the longest running and most renowned shows. On the 09.30.07 program you were asked for your support and asked to become an important part of STAR'S END and the presentation of a unique blend of Ambient, Space, Avant-Garde and Chillout music. The 42 listeners who made $3200.00 in donations to STAR'S END during the Fall 2007 Fundraiser are helping STAR'S END in its mission is to present the timeless and innovative music that makes up each broadcast, and have became part of the substance of non-commercial radio. Thank You! for your generosity!

Thanks also to the 09.30.07 STAR'S END phoneroom volunteers: John Garaguso, Ben Manes, Chuck Nixon, Bud Schoefer and co-host Jeff Towne.

-Chuck van Zyl/STAR'S END - 4 October 2007
---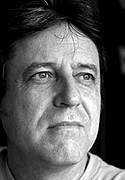 David Wright - Live In-Studio STAR'S END Radio Concert on 30 September 2007
David Wright is considered one of England's leading exponents of melodic instrumental music. Since his debut album in 1989 Wright has released 18 solo works and earned respect as a live performer. His music is characterized as being atmospheric - flirting with the ambient and ethereal - while his melodies connect to jazz and eastern music. By combining electronic sonorities with emotional gravity, the resulting music is rich with unique ideas, refined ambient tones and elegant melodies.
Wright's work spans a broad spectrum of styles but is always thematic with strong melodic structure. Combining romanticism, sequences, atmospherics and varied rhythmic elements, his music has been characterised as emotive and expressive. The gently rhythmic style is also laced with classical, rock, jazz and native influences making his albums as diverse as they are original.
After his 29 September 2007 concert in Philadelphia at The Gatherings Concert Series, David Wright performed a live in-studio radio concert on the 09.30.07 broadcast of STAR'S END.
For more about David Wright, access the STAR'S END Profile

---
David Wright live in Concert - 29 September 2007
UK synthesist David Wright made his stateside concert debut in Philadelphia as part of The Gatherings Concert Series on Saturday 29 September 2007 at St. Mary's Hamilton Village.
For details, please access: http://www.thegatherings.org