Rich's more mature work, such as Rainforest, Propagation, Gaudi and Seven Veils, has sought to combine his interest in psycho- active soundscapes with more recognizable electro- acoustic elements. Blending influences from Africa, Indonesia and India with electronics, ancient tunings and the cyclic melodies of minimalism, Rich has defined a new style of electronic trance music.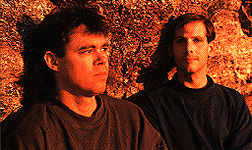 Steve Roach + Robert Rich circa 1989
His impressive discography of over 20 titles includes numerous collaborations. This work has gained him significant recognition, particularly from the critically acclaimed and best-selling albums with tribal/ambient pioneer Steve Roach: Strata and Soma. Among Rich's latest solo releases is the 3CD set Humidity (Hypnos), a compilation of concert recordings, Somnium (Hypnos/Release) a seven hour DVD format virtual "Sleep Concert" and Bestiary (Release), Rich's border blurring foray into modular synthesis.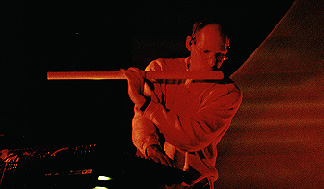 Rich's interests have grown to include just intonation (a tuning system based on the harmonic series), world music and minimalism. Throughout his career, Rich has performed in a variety of unorthodox venues, including caves, dormitories, planetaria, cathedrals and art galleries, in addition to concert halls in Europe, Canada, Mexico and the United States.

Rich first performed in Philadelphia in late '96. His STAR'S END Sleep Concert and subsequent live performance at The Gatherings Concert Series were among the most well received on that year's tour of North America. An excerpt of Robert's STAR'S END Sleep concert appears on the STAR'S END 30th Anniversary Anthology CD.
---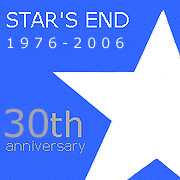 The STAR'S END 30th Anniversary Spacemusic Festival
Robert Rich returned to Philadelphia to perform live with Ian Boddy on 16 June 2007 at The STAR'S END 30th Anniversary Spacemusic Festival presented by Member Supported WXPN FM in Philadelphia. This event saw the worldwide debut of Robert Rich + Ian Boddy in concert. Also appearing was Jeff Pearce, The Ministry of Inside Things and Orbital Decay. For Photos and Reviews please access the Festival Announcement
Following the festival, Robert Rich + Ian Boddy took part in an Artist Discussion Workshop on 17 June 2007 presented by The Gatherings Concert Series. Details at: www.thegatherings.org

---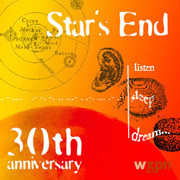 STAR'S END 30th Anniversary Anthology CD
To mark 30 years of continuous broadcast of STAR'S END, WXPN is releasing the STAR'S END 30th Anniversary Anthology CD. This double CD contains over 120 minutes of live music from 12 renowned artists. The unique performances were culled from on-air in-studio radio concerts by some of our community's greatest talents. Included on the disc are previously unreleased live selections donated by: The Ministry of Inside Things, Orbital Decay, Ian Boddy, AirSculpture, Radio Massacre International, Robert Rich, Rudy Adrian, Jonn Serrie, Jeff Pearce, Saul Stokes and Steve Roach.