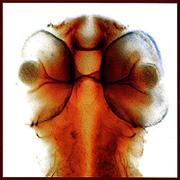 Roger Eno and Lol Hammond
- Damage (Thirsty Ear)
&nbsp

Roger Eno and Lol Hammond have somehow managed to put their wildly differing musical stylings into one space to create an intriguing collection of works called Damage which, in it's own special way, just might inspire others to look a little closer at the raw power a piano accompanied by just the right accompaniments is capable of producing.

Often content to simply breeze along with the flow, hardly ever piling up the pieces to the usual grand climax before the long slide into silence, Eno and Hammond have taken the time to hold back on the heart stopping grooves and instead look into the spaces that often get ignored.

Until Lose That Skin came along I wasn't actually sure whether this album was for me. I just didn't get the simplicity. But after several moments with an oddly de-tuned piano and what I suspect to be the ex-Drum Club member Hammond's inspired subsonics, I was at once clued in and ready for a lot more. Blue Kind Of Drug, which followed, stayed in the same lane while slowly lifting me back up into that already familiar and super hypnotic drum loop that just grinds away forever.

From there on in things just got better and better.
&nbsp

Review Source:
www.electronicmusic.com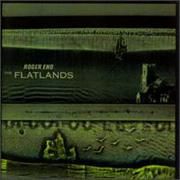 Roger Eno - The Flatlands

"The music that makes up The Flatlands was written over a period of about eighteen months and is a culmination of a mode of work that I had been pursuing for some time.

I was interested in the intimate textures that a chamber group allows, the accidents that chance brings with it and how apparently mutable time can appear. I also wanted to create an album of pieces linked in a way that they seem to be closely related to each other, so when heard together form a satisfying, unified work.

The Flatlands is a mixture of closely written pieces and others that use quite loose restrictions, the players inventing on the spot using a limited series of written notes, their own free timings and expression. I was interested to hear how a reasonably large group came to unspoken and seemingly democratic conclusions; as a mood or element formed it became more solidified and confident.

In the more strictly written pieces, I wished to explore the delicate interplay and fragility that smaller groups can create so well, I wished for nothing boastful, the players and writer being each but an element of a whole. This, of course, is how music has been for years and so, is in itself, nothing new. This approach though, married to the wish of an overall and unified atmosphere, creates a peculiar quality; a bit like classical music with all the quick bits taken out, leaving only those lovely quiet moment that were, through fashion, broken.

In short, I wished to make a record which was both satisfying to write and to live with, one that plays with time yet rests comfortably on the ear; a collection that is perhaps merely glimpsed (minutes made of fragments) in which time is not rushed or more hopefully, thought of as mutable."

Review Source: The Material Sonori Website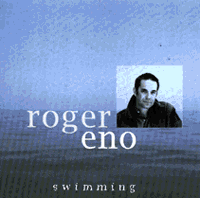 Roger Eno - Swimming

The song "Over The Hills & Far Away" has a resonant title, its imagery of escape into distant countryside has been an abiding one in English music from Delius through Percy Grainger to Led Zeppelin and now Roger Eno.

A version of this classic tune takes on a central role in Roger's new album Swimming, a shimmering collection of ten vocal and four instrumental musical time-pieces which flow one into the next to produce the composer's strongest recording to date.

"Over The Hills is a traditional tune written by John Gay" says Eno. "It was included in the 18th century parody The Beggar's Opera and was recited before a hanging". In fact Swimming contains two other hanging tunes, both traditional, in The Paddington Frisk and The Parting Glass, an Irish favorite. Whereas an English folk luminary such as Bert Jansch might see the serious near-death side of English folk music, Roger Eno sees it in a humorous light. After all, didn't the aforementioned Led Zeppelin immortalize hanging tunes on their folksy self-titled third album? That's the thing about Roger Eno. He combines a musicologist's brain with a wry sense of humor, a frequently overlooked characteristic that has sustained his work since he started making records in 1983.

Generally known as a composer of 'ambient' music, the only real 'ambient' track on Swimming is "In Water", which uses hypnotic guitars with lots of sustain to glide through acoustic space. Elsewhere Roger plays guitar, banjo, ukelele, accordion, harmonica, piano and various keyboards. Recorded at his own Shed Studio in Suffolk, Eno explains..."this recording was helped by the use of a Roland VS80, a new digital tape recorder with a big effects board. It has 8 tracks with virtual 64 track so I could do lots of mixes. It took almost three months and made a change from my old noodly 'ambient' recordings though I've kept certain qualities like atmospheres".

Review Source: Gyroscope website