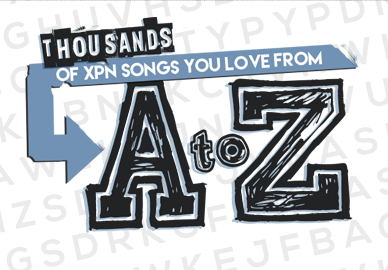 STAR'S END was recently notified that the 12.04.16 and 12.11.16 broadcasts will be pre-empted by WXPN's "24/7 A to Z" special programming.

Please rejoin STAR'S END for the 12.18.16 edition.
Latest Review: As Above So Below by Ian Boddy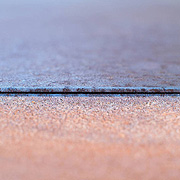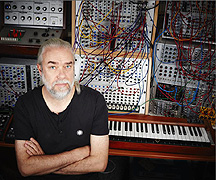 After the absorption of so many modern minimal musical explorations, where works are realized or discovered rather than composed and produced, it comes as something of a relief to listen to an album made with expressive intent. Heading towards the poetic world of memory and imagination Ian Boddy harnesses the power of his synthesizers, and ably delivers As Above So Below (39'08"). Its six tracks feel organic, never schematic - flawlessly flowing across a fascinating range of textures and moods. In possession of an electrified core (enchanting on its own terms), with this economical release Boddy manages to fuse a stylistically progressive arrangement and cosmic music atmosphere. Spirit and mood synchronize in a harmony of plaintive electronics and machine beauty. Energy levels build, then take unexpected turns. Abstract forms coalesce into meaningful melodies... all the while, the thematic density of each piece engages and sustains the listener. Whenever As Above So Below takes dark turns, we feel confident. Passages for grand piano and reverb feel elegant and elated, in some contrast to elsewhere-present impressionistic washes of ethereal choir and roiling drones. While his darkness shimmers on the surface, Boddy builds towards big ideas. The pacing is methodical, the narrative captivating, and the production substantial. Spinning like different sized wheels running at different rates, electronic rhythms and synthesized patterns momentarily take their place in front, then move back in support - all together outputting a most wonderful clockwork music. Letting it overheat, off-kilter drumbeats mix with spacey modulated tones - to frame rising synth leads and evocative string chords. Whatever has been left out is meant for the listener to fill in. Yet, this work is meant to be enjoyed, not solved. His music is a fundamental source of Ian Boddy's identity. As Above So Below is a work of surprising effect. Active listening will elevate the mind and deepen the spirit, this from an established star still determined to grow.

Please tune into STAR'S END this weekend for music from As Above So Below, the new album by UK Electronic Musician Ian Boddy

For more about As Above So Below, please access: www.din.org.uk

For more about Ian Boddy, please access: www.ianboddy.com

For more about Ian Boddy, please access the: STAR'S END Profile

Read the Igloo feature on Ian Boddy: Celebrating DiN's 50th Prolonged Analog Electronics

Related Content:

The Final Question (2007)
Liverdelphia (2013)
The Mechanics of a Thought (2007)
Sepulchre (2013)
Strange Attractors (2012)
Three Dreams (2007)
Tone Science (2016)

More STAR'S END Reviews
Friday Arts WHYY TV12

Friday Arts is a weekly 30-minute arts, cultural and entertainment magazine that airs on WHYY TV12 Fridays at 8:30PM. Each broadcast features three segments: "Art", "Art of Life" and "Art of Food". Friday Arts casts a light on some of Philadelphia's most fascinating yet well-kept secrets in the arts.
John Diliberto, Jason Sloan, Jeff Towne and Chuck van Zyl were featured in a segment produced by Michael O'Reilly for the Friday 4 January 2013 episode of Friday Arts. This portion of the program included coverage of activities related to the ECHOES and STAR'S END radio programs and The Gatherings Concert Series - as well as background on Philadelphia's unique Spacemusic scene and the ideals and concepts which drive this genre's creative force.
To view Friday Arts online please access: whyy.org/cms/fridayarts/art-stars-end-and-space-music
STAR'S END on The Internet







The Listening List - Recent Album Reviews From STAR'S END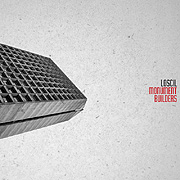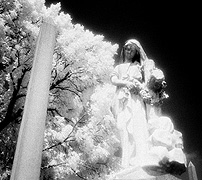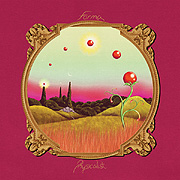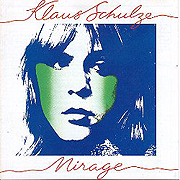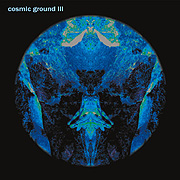 (Please Click on an Album Cover)
November 2016 Top 25 STAR'S END Releases - Alphabetical
Artist - Album (Label)
Selected Ezines - Online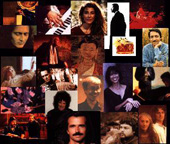 Selected Magazines - In Print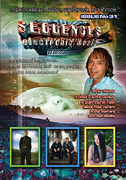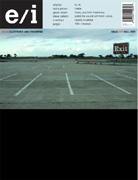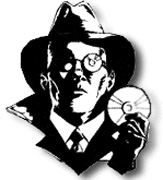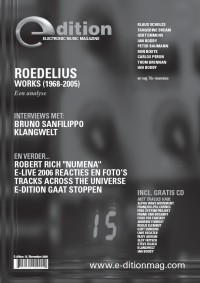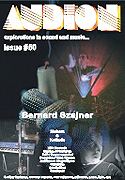 STAR'S END - Site Search
Have you ever been looking for something on this website only to become bogged down by the massive size and enormous content? Now you can find what you are seeking somewhat easier. Searching the STAR'S END Website has become much easier. Look for info on artists, albums, track names, labels, etc. via a Google "site search" - now part of the STAR'S END Website.

For more on STAR'S END Website search, access: http://www.starsend.org/search.html
STAR'S END Updates - via Email to you
Have this update emailed to you as a newsletter once a week by joining the STAR'S END Radio Group at Yahoo Groups. Whether it's a review of a new spacemusic release, an artist interview or news about an upcoming in-studio concert, receiving the newsletter is a convenient way to keep informed of the music featured on STAR'S END Ambient Radio each week.

Click on the provided link and follow the easy instructions for signing up. Once your registration has been confirmed, you will receive the STAR'S END Update every Thursday evening. This is not a discussion group, email addresses will not be made public. There is no fee for this service and you can unsubscribe at any time.

Thanks for signing up!
Images From Selected Live On-Air Concerts - Click on an Image for Details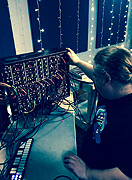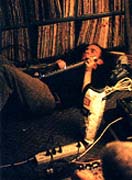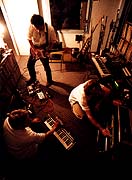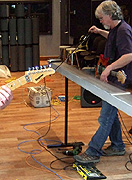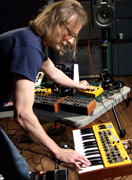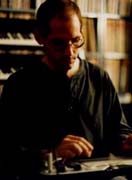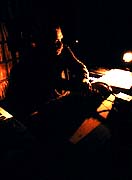 Access the Concerts page for more about live on-air in-studio STAR'S END radio concerts
~ Coming Up ~ Live on STAR'S END ~
Guitar Pilots : 3 April 2016 (see photos)
Chuck van Zyl : 8 May 2016 (see photos & video)
Hotel Neon : 31 July 2016 (see photos & video)
Modulator ESP + onewayness + dRachEmUsiK : 18 September 2016 (five hours of continuous live music) (see photos)
AirSculpture : 9 October 2016
Centrozoon : 6 November 2016 (see photos)
.
Please Check Back for Updates!
---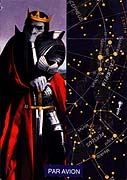 Website Pages Updated/Added
---
STAR'S END broadcasts every
Saturday Night/Sunday Morning from 1:00am til 6:00am (EST) on:
88.5fm WXPN Philadelphia, PA
88.1fm WXPH Harrisburg, PA
90.5fm WKHS Worton/Baltimore, MD
91.9fm WXPJ Hackettstown, NJ
104.9fm Allentown, PA
and live on the world wide web at: http://xpn.org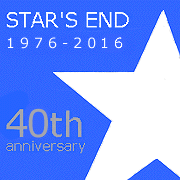 Search
12.18.16 Playlist
Events
Listener Essays
Playlist Index
Index of Reviews
Home