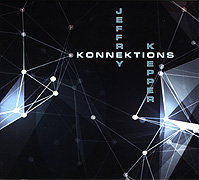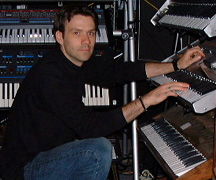 It is so odd to hear its seasoned veterans tell us that, "There is no future in Rock n' Roll, only recycled past." Thankfully, the kind of work Jeffrey Koepper adventures in harbors not-yet-exhausted possibilities. On Konnektions (71'28") he dives in, dedicating deep energy to setting and getting his new musical mood just right. Its eight tracks, realized using slabs of old synthesizers and tone-tool modular contraptions, gradually dazzle us. As each piece opens, we become primed to expect complexity - and find every one presenting its own entrancing deployment of echoing sequencer variations. Spiraling through time the rows of motoring notes act to gradually mesmerize the listener. Patterns advance, recede, lengthen and contract through their octaves in a tripping mechanical choreography. These intriguing variations provide Konnektions with a unique feel - somewhere between the academics of Minimalism and the expansiveness of Spacemusic. Koepper's intricately pulsing ornamentation becomes somewhat softened through the addition of ethereal electronic harmonies. While dramatic chords offer a spacey coolness to the mighty pulse, this tightened structure brings our minds to the verge of revelation. Pop music works best if you do not listen too closely. Koepper's music is the opposite, asking the listener to reflect on the ways and power of sound. While our hearts alight with the longing to be swept away, our thoughts turn to the concept and the sensation of sound. Some are out there just hoping to be discovered, while others seem like strange new things waiting to be invented. With every new album release Koepper, and his cult of sonics, venture into the challenging realm of technology and creative impulse - in a questing, ever-roving engagement with Electronic Music.

Please tune in to STAR'S END this weekend for music from Konnektions, the new album by USA synthesist Jeffrey Koepper

For more on the Konnektions please access: www.jeffreykoepper.com

For more on the Jeffrey Koepper please access the STAR'S END Profile

More STAR'S END Reviews
---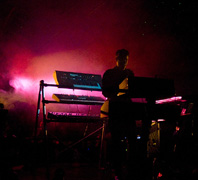 Jeffrey Koepper - Live in Philadelphia: 12 September 2015
Jeffrey Koepper's internal wiring seems at odds with modern times. In a culture where the ringtone passes for art and music is frozen and compressed into ninety-nine cent sound files Koepper's expressive use of electronic music equipment boldly aligns with the mechanisms of the mind rather than mere fleeting trends. His precisely programmed swirling Spacemusic seduces listeners into a kaleidoscopic inner-sanctum where time is suspended and the outside world fades away.
Jeffrey Koepper is set to provide an opening set for Steve Roach, as they both return to Philadelphia and The Gatherings Series on Saturday 12 September 2015.
More information at: www.thegatherings.org

Friday Arts is a weekly 30-minute arts, cultural and entertainment magazine that airs on WHYY TV12 Fridays at 8:30PM. Each broadcast features three segments: "Art", "Art of Life" and "Art of Food". Friday Arts casts a light on some of Philadelphia's most fascinating yet well-kept secrets in the arts.
John Diliberto, Jason Sloan, Jeff Towne and Chuck van Zyl were featured in a segment produced by Michael O'Reilly for the Friday 4 January 2013 episode of Friday Arts. This portion of the program included coverage of activities related to the ECHOES and STAR'S END radio programs and The Gatherings Concert Series - as well as background on Philadelphia's unique Spacemusic scene and the ideals and concepts which drive this genre's creative force.
To view Friday Arts online please access: whyy.org/cms/fridayarts/art-stars-end-and-space-music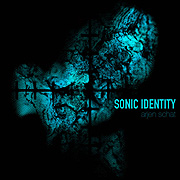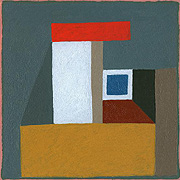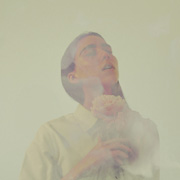 (Please Click on an Album Cover)
July 2015 Top 20 STAR'S END Releases - Alphabetical
Artist - Album (Label)
Selected Ezines - Online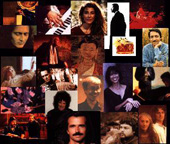 Selected Magazines - In Print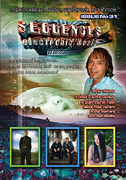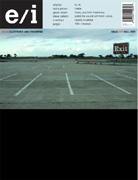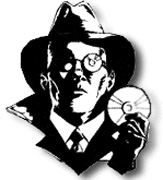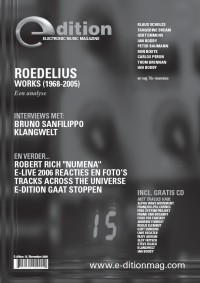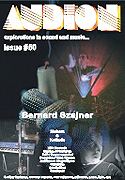 STAR'S END - Site Search
Have you ever been looking for something on this website only to become bogged down by the massive size and enormous content? Now you can find what you are seeking somewhat easier. Searching the STAR'S END Website has become much easier. Look for info on artists, albums, track names, labels, etc. via a Google "site search" - now part of the STAR'S END Website.

For more on STAR'S END Website search, access: http://www.starsend.org/search.html
STAR'S END Updates - via Email to you
Have this update emailed to you as a newsletter once a week by joining the STAR'S END Radio Group at Yahoo Groups. Whether it's a review of a new spacemusic release, an artist interview or news about an upcoming in-studio concert, receiving the newsletter is a convenient way to keep informed of the music featured on STAR'S END Ambient Radio each week.

Click on the provided link and follow the easy instructions for signing up. Once your registration has been confirmed, you will receive the STAR'S END Update every Thursday evening. This is not a discussion group, email addresses will not be made public. There is no fee for this service and you can unsubscribe at any time.

Thanks for signing up!
Images From Selected Live On-Air Concerts - Click on an Image for Details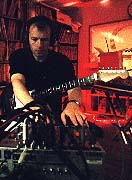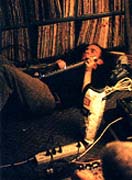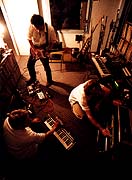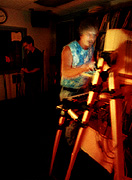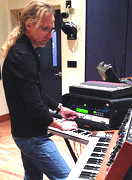 Access the Concerts page for more about live on-air in-studio STAR'S END radio concerts
~ Live on STAR'S END ~
Ombient : 10 May 2015 ()
Erik Wollo + Bernhard Wostheinrich : 11 October 2015
George Wallace : 15 November 2015
Vic Hennegan : 15 November 2015
Simon Lomax : 22 November 2015
Please Check Back for Updates!
---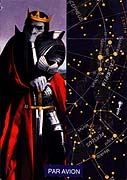 Website Pages Updated/Added
---
STAR'S END broadcasts every
Saturday Night/Sunday Morning from 1:00am til 6:00am (EDST) on:
88.5fm WXPN Philadelphia, PA
88.1fm WXPH Harrisburg, PA
90.5fm WKHS Worton/Baltimore, MD
104.9fm Allentown, PA
and live on the world wide web at: http://xpn.org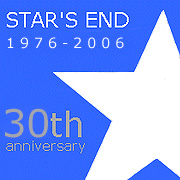 Search
09.06.15 Playlist
Events
Listener Essays
Playlist Index
Index of Reviews
Home