Chuck van Zyl has been recording electronic music and performing live for over 20 years, but is perhaps best known for hosting STAR'S END for the past 30 years - one of the world's most successful radio shows of electronic music. van Zyl has released two CDs of spacemusic on the Centaur label, Celestial Mechanics and The Relic, plus The Sound Museum (with Gulch + Rath) out on the Groove label. His collaborative effort with Peter Gulch, Regeneration Mode, was released on their own Synkronos label. Art Cohen has been pushing the limits of the electric guitar in the studio and in live performance for well over 20 years.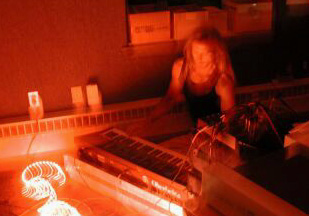 The Ministry Of Inside Things has performed live at Voices Beyond the Dome, Feedback, Gate To Moon Base Alpha, under the dome of the Novins Planetarium, as part of The Gatherings Concert Series, and live on broadcasts of the STAR'S END, ECHOES, GALACTIC TRAVELS, THE NOD and NOCTURNAL TRANSMISSIONS radio shows. The Ministry Of Inside Things' 2005 Winter Tour included a radio concert live on the 01.30.05 broadcast of STAR'S END as well as at the STAR'S END Fundraiser Premium Concert with Orbital Decay which took place at WXPN studios 19 March 2005. MoIT have perfromed live on STAR'S END numerous times - most recently on the 10.05.08 broadcast.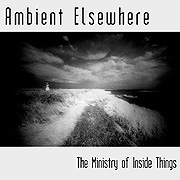 MoIT has three live CDs available: Everlasting Moment (2CD), Contact Point and their lastest Ambient Elsewhere (2CD) - which was released at their 20 September 2008 performance to benefit The Gatherings Concert Series. Music from this disc has been drawn from several inspired performances and features definitive live versions of classic MoIT pieces like "Naylor's Run" and "Love Attack". The music plays for about two hours, easily flowing through a variety of themes, moods and styles of Spacemusic.

---
Artist Statement: Ambient Elsewhere by The Ministry of Inside Things
The Philadelphia based Spacemusic duo The Ministry of Inside Things exist outside the confines of the recording studio and in the realm of the live performance. As MoIT, Art Cohen (guitar) and Chuck van Zyl (synths) continue a tradition of bringing an otherwise methodical studio based artform out into the spontaneity of the performance environment. Their third CD Ambient Elsewhere feels dark and isolated when compared to their two earlier releases. While Everlasting Moment explored the edges, dynamics and tension of space and atmosphere, and Contact Point embraced the more unified themes of cosmic, biospheric and macrocosmic interaction, Ambient Elsewhere moves through strange new territory in-between and outside of traditional Spacemusic. Drawn from a range of chilling themes, this album sonifies wintertime, desolate landscapes and the soul's midnight. Moving through the timbral badlands of the empty quarter, Ambient Elsewhere offers up a courageous intimacy. Always bringing their own influences and innovation to the music process, MoIT produces a sound that is uniquely individual and personal.
---
---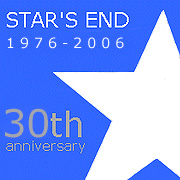 The STAR'S END 30th Anniversary Spacemusic Festival
The Ministry of Inside Things performed live on 16 June 2007 at The STAR'S END 30th Anniversary Spacemusic Festival presented by Member Supported WXPN FM in Philadelphia. This event saw the worldwide debut of Robert Rich + Ian Boddy together in concert. Also appearing was Jeff Pearce and Orbital Decay.
For details please access the Festival Announcement

---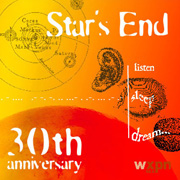 STAR'S END 30th Anniversary Anthology CD
To mark 30 years of continuous broadcast of STAR'S END, WXPN is releasing the STAR'S END 30th Anniversary Anthology CD. This double CD contains over 120 minutes of live music from 12 renowned artists. The unique performances were culled from on-air in-studio radio concerts by some of our community's greatest talents. Included on the disc are previously unreleased live selections donated by: The Ministry of Inside Things, Orbital Decay, Ian Boddy, AirSculpture, Radio Massacre International, Robert Rich, Rudy Adrian, Jonn Serrie, Jeff Pearce, Saul Stokes and Steve Roach.