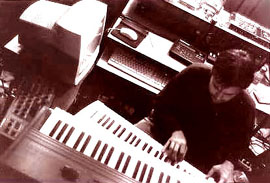 Synthesist, drummer, sound sculptor and electronic groove creator Vir Unis is a significant voice in the world of atmospheric / tribal / ambient music. With an emphasis on rhythm and pulse, underpinned by deep synthesizer textures, Vir Unis realizes music that moves between the organic intensity of ever evolving fractal grooves and the harmonic complexity of mist strewn sonic atmospheres.
Presently residing in the mid-west, Vir Unis (aka John Strate-Hootman) initially released The Drift Inside and Aeonian Glow on the Green House label. On his first two CDs Strate explores his passion for experimental sound sculpting while demostrating his talent for creating modern rhythms on the later. Vir Unis has also collaborated with Steve Roach on Body Electric and Blood Machine.

Of music, Strate says, "I consider music to be a visual medium. Not just in imagining pictures while listening to music, but in a much more direct way. I see music when I listen to it. It creates patterns, textures, and all sorts of mandala like structures. In designing images on the computer, I try to capture the things I see in music. Painting, drawing, and computer aided design is all musical too. So, there's this sort of synesthesia that occurs naturally if you tune into it, and that's why a lot of artists are able to cross over into various mediums, because they all derive from the same source".
---
Vir Unis performed on 4 March 2000 at The Gatherings Concert Series in Philadelphia. This was his first concert ever on the east coast of the USA, second solo concert ever and demonstrated his talent for exploring, through music, the areas of space within and outside of the audience. A recording of this concert has been released via MP3.com.
Following the 4 March Gathering, Saul Stokes and Vir Unis performed their first collaboration live on the 03.05.00 broadcast of STAR'S END.
---
Vir Unis returned to Philadelphia on 12 April 2003 to once again perform at The Gatherings Concert Series. Joining him was friend and collaborator, noted sonic explorer James Johnson. The duo presented live material in the vein of their recent release, Perimeter and its follow-up 3CD set, Perimeter 2 - released in Philadelphia on 12 April. Read the STAR'S END Review.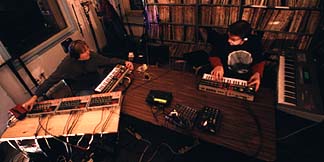 Following their 12 April concert in Philadelphia, Vir Unis + James Johnson transferred themselves and their music making equipment up to nearby STAR'S END Ambient Radio for a live on-air in-studio radio concert. The duo played live throughout the entire five hour duration of the 04.13.03 broadcast.
For more on James Johnson, including photos from his 04.22.01 STAR'S END Radio concert and an audio excerpt from the STAR'S END interview, access the STAR'S END Profile: http://www.starsend.org/jamesjohnson.html
For more on The Gatherings Concert Series, access: http://www.thegatherings.org
---