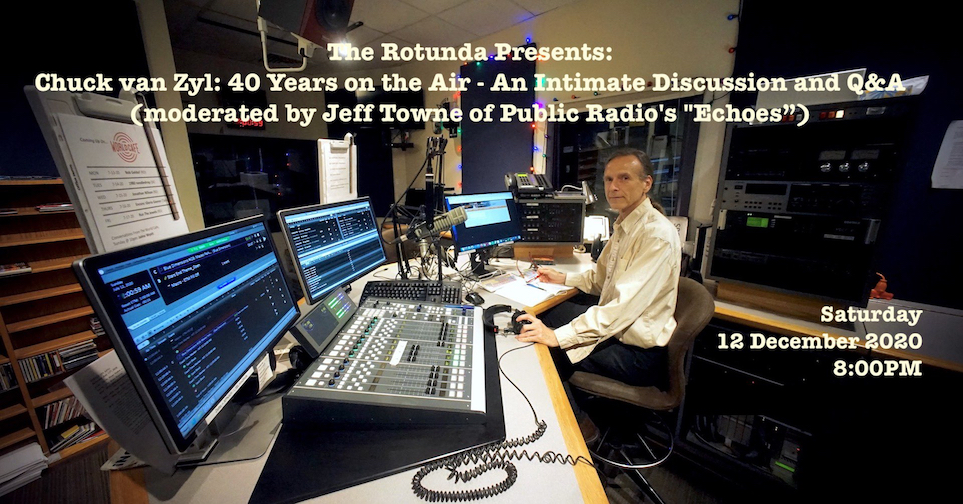 Chuck van Zyl: 40 Years on the Air, an Intimate Discussion and Q&A
(moderated by Jeff Towne of Public Radio's "Echoes")
Saturday 12 December 2020 at 8:00PM (USA Eastern Standard Time)
In 2020 long-serving Star's End host Chuck van Zyl attains 40 years on the air at public radio station WXPN - and marks this milestone with
The Rotunda's live online Interview and Q&A session. Moderated by Echoes producer Jeff Towne, this virtual online event will take place on
Zoom. Registration is required.
All registered guests will receive their Zoom link roughly one hour before the event.
Please register by Clicking Here.
Please note that this event will also stream live on The Rotunda's Youtube Channel, but you will be able to interact with Chuck and Jeff and ask questions only if you join the Zoom session! (this event will have closed captioning)
Please find complete details by accessing The Rotunda Press Release (click here)
Chuck van Zyl: (promo video)
Chuck van Zyl: Interview/Q&A 12 December 2020 8-10:30PM (full session)
---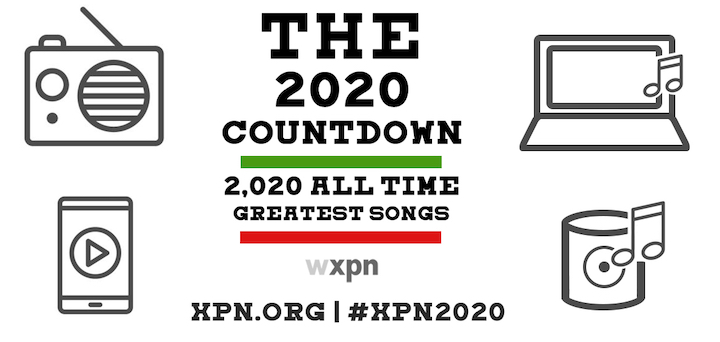 STAR'S END 12.13.20 Preempted by the 2020 Countdown - WXPN Special Programming
Beginning on 10 December 2020 WXPN's All Time Greatest Songs Countdown will play back the two thousand and twenty all-time greatest songs as voted on by listeners, and continue for several days.
Please note that during the broadcast of WXPN's special programming all regularly scheduled programming will be preempted, including the 12.13.20 edition of STAR'S END Ambient Radio. Please rejoin STAR'S END on 12.20.20. Thank You.
For more on WXPN's 2020 Countdown, please access: www.xpn.org/music-artist/885-countdown/2020

---
---
---
STAR'S END on The Internet
---
STAR'S END Updates - via Email to you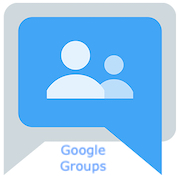 Have updates emailed to you as a newsletter once a week by joining the STAR'S END Radio Group at Yahoo Groups. Whether it's a review of a new spacemusic release, an artist interview or news about an upcoming in-studio concert, receiving the newsletter is a convenient way to keep informed of the music featured on STAR'S END Ambient Radio each week.
Click on the provided link and follow the easy instructions for signing up. Once your registration has been confirmed, you will receive the STAR'S END Update every Thursday evening. This is not a discussion group, email addresses will not be made public. There is no fee for this service and you can unsubscribe at any time.
Thanks for signing up!
groups.google.com/g/starsendradio
---
STAR'S END Archived Stream

Beginning with the 10.07.18 edition, an archived stream of each broadcast of STAR'S END will be available through the WXPN website. To listen anytime, please access: tinyurl.com/starsendarchive
---
---
Previous Playlist | Next Playlist | Playlist Directory | Update | Search | Home