Over the years, STAR'S END has hosted numerous on-air in-studio radio concerts. These live performances were often, for the artists, a culmination of many hours of planning, traveling, rehearsing, touring and concertizing. This international cast of musicians each used their time on the air as a personal process of discovery. The late hour, the daunting task of filling a one, two, three or even a five hour time slot with music, and their mental state (often characterized by extreme fatigue over-ridden by a lingering post-Gatherings Concert Series performance "high") all contributed to a unique and inspired live performance.

Several artists have released albums featuring recordings of their STAR'S END concerts including: Cloudseeder by Wave World, Music for the End by Kit Watkins, Over the Pond by Under the Dome, Atmospheric Conditions by Free System Projekt, Emissaries by Radio Massacre Int'l and The Light Beyond as well as the DVD Luminous Dimensions by Jeff Pearce. Still more significant music has yet to be made available through official album releases by the remaining artists.
---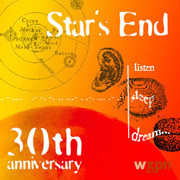 To mark 30 years of continuous broadcast of STAR'S END, WXPN is releasing the STAR'S END 30th Anniversary Anthology CD. This double CD contains over 120 minutes of live music from 12 renowned artists. The unique performances were culled from on-air in-studio radio concerts by some of our community's greatest talents. Included on the disc are previously unreleased live selections donated by: The Ministry of Inside Things, Orbital Decay, Ian Boddy, AirSculpture, Radio Massacre International, Robert Rich, Rudy Adrian, Jonn Serrie, Jeff Pearce, Erik Wollo, Saul Stokes and Steve Roach.
For more details on the STAR'S END 30th Anniversary Anthology CD, please access: http://www.starsend.org/SECD.html
---