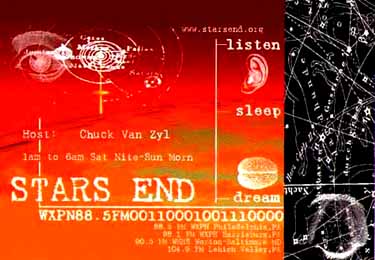 STAR'S END is (with the exception of "Music from the Hearts of Space") the longest running radio program of ambient music in the world. Since 1976, STAR'S END has been providing the Philadelphia broadcast area with music to sleep and dream to.

There are many suggested uses for the program, but most people tune their radio to STAR'S END as they get into bed on Saturday night and allow the gentle aural soundscapes to influence their sleep and dreams.

The music is presented in a non-stop drifting blend and drawn from a diversity of genres including: electronic, ambient, spacemusic, chillout, avant-garde, low-intensity noise, new age, international, spoken word and classical.
36 year veteran host Chuck van Zyl, has a low-key announcing style that gently informs listeners of show content without disturbing their sleep. Many feel he is a welcome guest in their intimate listening environment.

"STAR'S END is a unique listening experience, not just an exchange of information like most radio shows", says van Zyl. "Due to the unique presentation and the subtlety of the music, the program really affects people, often in a profound way".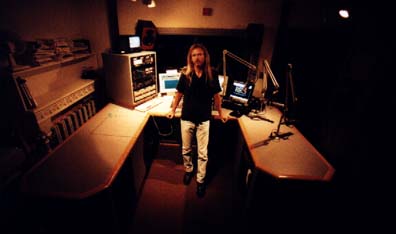 Explore the aural universe with STAR'S END every Saturday night at 1:00AM until 6:00AM Sunday morning (USA EDT).

Among the featured music and artists on the 01.15.17 broadcast of STAR'S END (click on a graphic below):

.

To learn more about STAR'S END transmissions, including the live internet stream, please access the Broadcast page of this website.